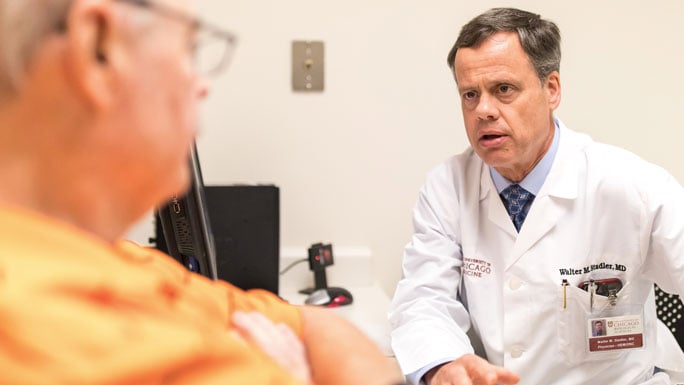 In most cases, prostate cancer is diagnosed and treated when the cancer is confined to the gland. But prostate cancer can metastasize, or spread, to the bones and other parts of the body. Today, men facing metastatic prostate cancer have many treatment options. The goal of these therapies is to halt cancer growth, control pain, alleviate symptoms and prolong survival.

The prostate cancer team at the University of Chicago Medicine specializes in the latest techniques for the treatment of metastatic prostate cancer. We were among the first hospitals in Illinois to offer PSMA PET imaging, a powerful new technology that is the best available method for detecting prostate cancer anywhere in the body. In addition, we were the first in the state to provide Lutetium-177 PSMA therapy (Pluvicto), an advanced theranostics treatment that targets prostate cancer cells with fewer side effects than alternate treatment options.
A key feature of our program is the UChicago Medicine High Risk & Advanced Prostate Cancer Clinic (UCHAP), a clinic that provides focused care for men with aggressive and high-risk prostate cancer.
Systemic Therapies
Medical oncologists with expertise in prostate cancer manage the treatment of men with metastatic disease. As members in the Prostate Cancer Clinical Trials Consortium (PCCTC), our specialists collaborate with experts at a dozen other academic institutions in the U.S. to design, implement and complete clinical trials of novel drugs for advanced prostate cancer. As a result, our medical oncologists have access to therapeutics not widely available. We continually research and develop new therapies for metastatic prostate cancer.

Systemic therapies — medications used to treat cancer by attacking it throughout the body — for metastatic prostate cancer include:
Radiation Therapy
Our radiation oncology team routinely administers radiation therapy to sites of metastatic prostate cancer for local control or to alleviate symptoms, such as pain. Our radiation oncologists work with the medical oncology team to coordinate external beam radiation therapy with any systemic therapy.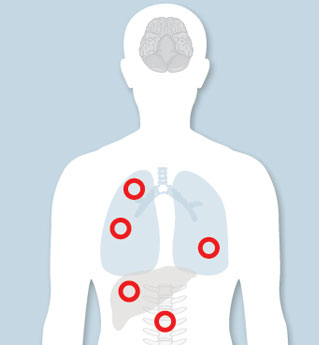 Treating Metastatic Cancer with Optimism and Hope
If you have been diagnosed with metastatic cancer, more therapies may be available to you than you think. Our cancer specialists are eager to help you understand all of your options.
Limited Metastatic Cancer Program
Convenient Locations for Cancer Care
Request an Appointment for Prostate Cancer Care
The information you provide on this secure form to request an appointment with a UChicago Medicine prostate cancer expert will enable us to assist you as efficiently as possible. A representative will contact you within one to two business days to help you schedule an appointment.
You can also make an appointment with our providers by:
– Scheduling a virtual video visit to see a provider from the comfort of your home
– Requesting an online second opinion from our specialists
To speak to someone directly, please call 1-855-702-8222. If you have symptoms of an urgent nature, please call your doctor or go to the emergency room immediately.
For Referring Physicians
To refer a patient for prostate cancer care, please call UCM Physician Connect at 1-800-824-2282.