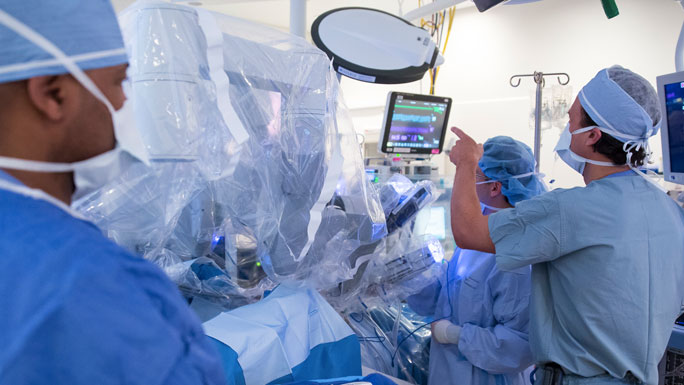 In some cases, prostate cancer recurs, or comes back, after a patient is treated with surgery or radiation. A rising PSA and/or a positive biopsy are the first indicators that the cancer has returned or has not been completely eradicated. We also offer PSMA PET imaging, an advanced technology that is the best available method for detecting prostate cancer anywhere in the body.
The multidisciplinary prostate cancer team at the University of Chicago Medicine specializes in the latest techniques for the treatment of cancer that has recurred.
Salvage Prostatectomy
Salvage radical prostatectomy refers to surgical removal of the prostate gland when cancer recurs after treatment. This procedure also includes the removal of adjoining seminal vesicles (glands that produce semen) and often the surrounding lymph nodes. Every attempt is made to spare the muscles and nerves important for preserving continence. This is a highly complex procedure with important considerations regarding quality-of-life but often is the only remaining curative option for men with recurrent prostate cancer. If you are considering a salvage prostatectomy, which is typically performed using a robot-assisted technique, it is important to have a detailed discussion with your surgeon.
Radiation Therapy
Radiation therapy can be effective for cancer that recurs after radical prostatectomy. Intensity-modulated radiation therapy (IMRT) can be used to target the tissues at risk for cancer recurrence, including the space that the prostate occupied before removal. In certain cases, radiation therapy is combined with hormonal therapy to improve the chance for cure.
Systemic Therapies
At UChicago Medicine, medical oncologists with special expertise in prostate cancer manage the treatment of men with recurrent disease. As members in the Prostate Cancer Clinical Trials Consortium (PCCTC), they collaborate with experts at more than 40 other research sites in the U.S. to design, implement and complete clinical trials of novel drugs for recurrent prostate cancer. As a result, our medical oncologists have access to the latest therapies for prostate cancer. And we continually research and develop new therapies for men with recurrent prostate cancer.
Systemic therapies — medications used to treat cancer by attacking it throughout the body — for recurrent prostate cancer include:
Hormone Therapy: A treatment that removes or blocks the action of testosterone and other male hormones, which can cause prostate cancer to grow. Hormone therapy can involve medications, surgery or the use of other hormones to lower the amount of male hormones or prevent their action.
Immunotherapy: Also called biologic therapy, immunotherapy uses the patient's own immune system to boost and direct the body's natural defenses to fight cancer.
Lutetium-177 PSMA therapy (Pluvicto): UChicago Medicine was the first in Illinois to offer this advanced theranostic treatment that targets prostate cancer cells with lower side effects than many alternative treatments.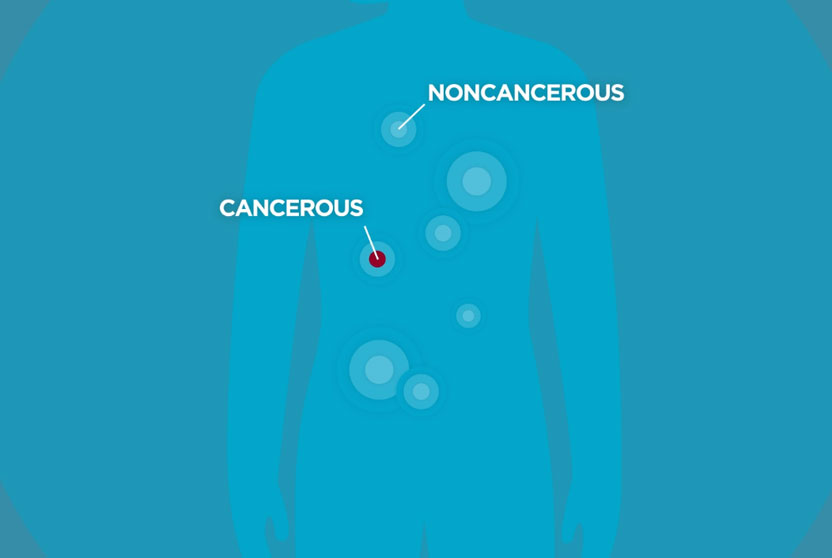 What is theranostics?
Theranostics is a growing field that's improving life expectancy and quality of life for people with certain types of metastatic cancers, including prostate cancer, thyroid cancer, neuroendocrine tumors and neuroblastoma. Learn how theranostics can kill cancer anywhere in the body.
Watch Video
Watch Video With Transcript
Request an Appointment for Prostate Cancer Care
The information you provide on this secure form to request an appointment with a UChicago Medicine prostate cancer expert will enable us to assist you as efficiently as possible. A representative will contact you within one to two business days to help you schedule an appointment.
You can also make an appointment with our providers by:
– Scheduling a virtual video visit to see a provider from the comfort of your home
– Requesting an online second opinion from our specialists
To speak to someone directly, please call 1-855-702-8222. If you have symptoms of an urgent nature, please call your doctor or go to the emergency room immediately.
For Referring Physicians
To refer a patient for prostate cancer care, please call UCM Physician Connect at 1-800-824-2282.