Skip to content
Innovative solutions for cancer care challenges during the pandemic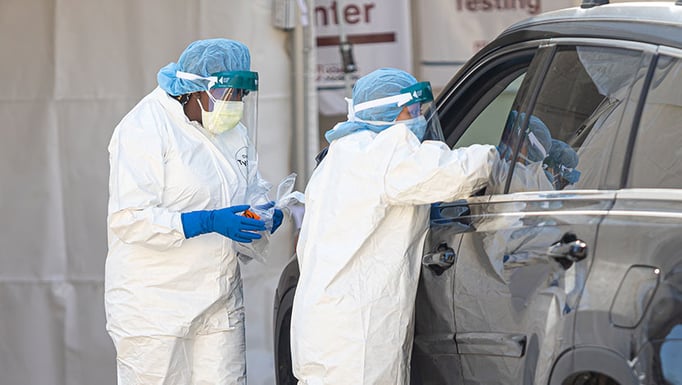 Drive-up testing and curbside labwork protects immune-compromised patients from being exposed to the coronavirus
The COVID-19 pandemic marks a tipping point for cancer care at the University of Chicago Medicine Comprehensive Cancer Center.
Virtual visits, curbside labwork and other pilot programs implemented to protect immune-compromised patients may be the new norm.
Medical oncologist Murtuza Rampurwala, MD, MPH, worried for months over his patients' well-being. "Elderly patients especially are at the highest risk of developing infections and complications," said Rampurwala, of UChicago Medicine Orland Park.
One challenge: To integrate new, "touchless" safeguards with hands-on treatments like chemotherapy and radiation therapies.
"Care continuity became more of an issue as time went by, and we realized the pandemic wasn't going to end in a week or month," Rampurwala said.
But cancer care is transforming. Amid an epidemic of hospital closures, UChicago Medicine is leveraging the talents and resources of its large, multisite network. For example, to improve safety and reduce risk, healthcare workers are traveling to the homes of patients to draw blood and collect samples for testing. This Hyde Park initiative has been adopted by UChicago Medicine Cancer Center at Silver Cross Hospital - New Lenox and is under consideration at UChicago Medicine Ingalls Memorial.
A system-wide challenge
While the COVID-19 statistics continue to emerge, the pandemic compelled UChicago Medicine to mitigate operational risks and share new methodologies to provide customized cancer care to patients. The key to success has been collective problem-solving.
Ambulatory Operations Director Bobby Lester summed up the mindset. "Cancer leadership and ambulatory leadership work in tandem to put virtual visits into place while also safely delivering in-person visits," he said.
About 8,500 cancer patients are treated annually in Hyde Park and off-site clinics. The majority of their care is delivered at outpatient settings at the Duchossois Center for Advanced Medicine (DCAM) and suburban locations.
The latter includes the UChicago Medicine Cancer Center at Silver Cross Hospital - New Lenox and UChicago Medicine Orland Park. The Center for Care and Discovery (CCD) in Hyde Park, and the 478-bed facility at Ingalls Memorial provide inpatient care.
When the COVID-19 pandemic spread to the United States in January, the medical center activated its Hospital Incident Command System (HICS) to address the threat. Chief Compliance Officer Krista Curell, JD, RN, serves as commander.
Under the leadership of Curell, Vice President of Risk Management and Patient Safety, the multidisciplinary team assessed operations organization-wide. Triage and separate clinical units were set up for COVID-19 patients at the CCD and Ingalls Memorial. New protocols included universal masking, limited points of entry and social distancing.
As for oncology services, overseen by Sonali M. Smith, MD, interim Section Chief of Hematology and Oncology, and Mitchell Posner, MD, Chief of Surgical Oncology and Physician-in-Chief of the UChicago Medicine Comprehensive Cancer Center, delayable surgeries and treatments were postponed. Entry of new patients onto clinical trials was paused.
Yet cancer keeps its own timetable. In late March, telehealth was launched as a real-time bridge and alternate to in-person care.
Pilots take off
Among the first users were members of the hematology/oncology teams on the main campus, many of whom remained on-site to coordinate and facilitate virtual visits with patients.
The hematology-oncology outpatient clinic, which logged nearly 6,000 clinic visits in February, saw in-person appointments dip to 4,440 (-24%) visits in March. April visits declined to 1,400 (-68%).
Meanwhile, telemedicine gained ground. Laptop and smartphone conferences, nonexistent in March, accounted for almost 1,900 interactions (1,290 videoconferences, 570 phone calls) between May 1 and May 20.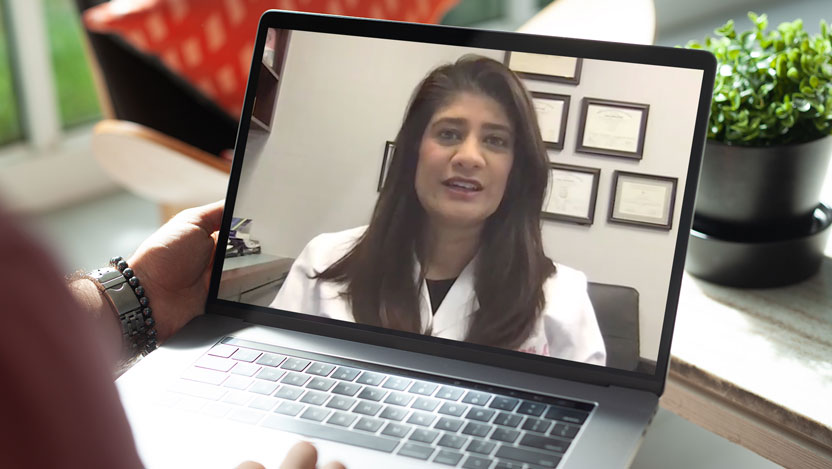 "Now, about 60 percent of our current volume is done via video," Lester said. "We see patients on campus when they come for radiation therapy, and when appointments align with other scheduled treatments, such as chemotherapy."
Under the Coronavirus Aid, Relief and Economic Security Act, also known as the CARES Act, the Centers for Medicare and Medicaid Services (CMS) backed telemedicine on March 17, authorizing temporary payments to clinicians providing the services to Medicare recipients. Illinois Governor J.B. Pritzker followed up March 19, relaxing state restrictions to make telehealth billable and reimbursable by insurers until further notice.
An interdepartmental collaboration helped patients get up to speed. Ambulatory Services, Marketing & Communications, Information Technology and the Call Center developed a telemedicine page for UChicago Medicine websites.
User-friendly features include an online tutorial on virtual visits, how to book appointments, and how to access MyChart data.
Positive buzz
Preliminary reports show that most patients are highly satisfied with their virtual visits on Zoom and other online communications platforms. Satisfaction scores are continuing to improve.
Patients appreciate convenience factors such as not having to drive, pay for parking or wait in waiting rooms.
Oncology patients are especially relieved.
"The last place they want to be is near a hospital that might have COVID-19 patients," said radiation oncologist Azhar Awan, MD.
For the clinicians, there were predictable initial tech glitches such as finding "unmute" buttons.
Preliminary reports show that most patients are highly satisfied with their virtual visits on Zoom and other online communications platforms.
Once acquainted with the new technology, though, they found it easy to transfer their "bedside manners" screenside.
Tech-savvy young patients tend to be the most receptive, while some Baby Boomers and seniors can be resistant. One woman balked at videoconferencing because "she wasn't dressed up well enough for a video visit and didn't want to spend an hour and a half to do her hair," Rampurwala said.
Awan makes do with phone visits. An expert on leading-edge radiation treatments, he is based at Ingalls Memorial in suburban Harvey, an underserved community with high rates of unemployment. Most of his patients lack access to tablets and smartphones, so phone calls are the rule. "We're on a learning curve as we improve our understanding of patient needs," Awan said.
Both he and Rampurwala agree that in-person visits will remain vital. First, physical exams are more thorough. Second, personal empathy is inherent to physician-patient relationships.
"When delivering bad news or sharing a prognosis that is critical and life-changing, you want to be holding their hand," Rampurwala said.
Smaller venues, big ideas
Promising off-site innovations may be destined for widespread implementation.
Credit the UChicago Medicine Cancer Center at Silver Cross Hospital - New Lenox for inviting staff and patients alike to suggest ways to enhance care.
After learning last year that Hyde Park was testing mobile blood-draw services, the New Lenox team contracted the same firm. Specimens are delivered to New Lenox's in-house lab for processing.
"The patients love the convenience," said practice administrator Liz Zavala, RN. So does the staff, now able to expedite lab services beyond their onsite lab. This initiative preempted the pandemic, reinforcing social distancing protocols months in advance in both Hyde Park and New Lenox.
At a staffer's suggestion, New Lenox followed up with remote check-ins. When patients arrive for their appointments, they park, phone the staff and check in. After nurses ensure the lobby is clear, each patient receives the go-ahead. He/she enters the cancer center, is screened, and directed straight to an exam room.
The enterprising Orland Park cancer center team resumed near-full operations in April after outlining ways to minimize exposure to COVID-19 and to maximize social distancing. "We banded together with Ambulatory leadership to keep Orland open and staffed for our patients," practice manager Alicia Fagan said.
Oncology patients are now directed to enter via a separate entrance, take a designated elevator to the oncology floor, and meet with their physicians in select exam rooms.
Another Orland Park brainstorm: a curbside lab. Patients drive up at prescheduled times, are escorted to a "clean" tent or remain in their vehicles for blood draws, then leave. "We bring the inside lab outside," Fagan said.
For Rampurwala, the innovative thinking that has kept the staff on call—and providing essential care to patients and patients during the pandemic—is a remarkable outcome in itself.
"A few of my oncologist colleagues at other institutions feel paralyzed—really limited—because their resources were diverted to COVID-19," Rampurwala said. "We struck a balance, caring for our COVID-19 patients, while also attending to our cancer patients."
Summer 2020 Pathways to Discovery: COVID-19 and Cancer
The latest issue of Pathways to Discovery is devoted to the COVID-19 crisis and its impact on patient care, research and community. Comprehensive Cancer Center clinicians and researchers are creating solutions to address challenges caused by the pandemic.
View the issue
Telemedicine at UChicago Medicine

Schedule a Video Visit
For your convenience and safety, we offer secure and easy virtual visits with our cancer experts for most non-urgent visit types. Our care providers can assess your symptoms, recommend treatment and send prescriptions to your pharmacy.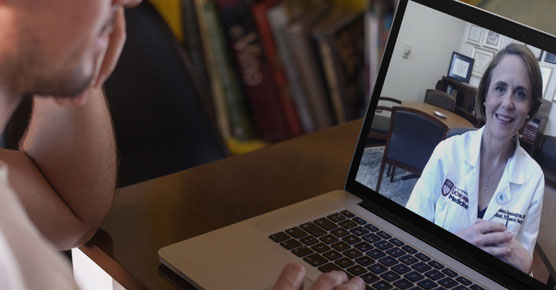 Express Expert Cancer Opinion
The Express Expert Cancer Opinion program provides newly diagnosed patients a 15-minute introductory virtual session with a world-renowned cancer expert at no cost to you.

Get a Second Opinion Online
Whether you are facing a complex health issue or a difficult treatment decision, getting a second opinion can help you make an informed decision about your care. Get an online second opinion from one of our experts without having to leave home.