Video Visits with Cancer Doctors - Virtual Oncology Appointments

Cancer Care Video Visits
Your health doesn't stop being a priority, even when it's a challenge to leave the house. For your convenience and safety, we offer secure and easy virtual visits by video for many of your cancer care needs.
New Patients
Call us at 1-855-702-8222 to schedule a video visit with a cancer specialist.
Existing Cancer Patients
Log in to your MyChart account to choose from available times to book your virtual appointment with a hematologist-oncologist, radiation oncologist, gynecologic oncologist, pediatric oncologist or cancer surgeon.
Questions?
Speak with a referral counselor at 1-855-702-8222.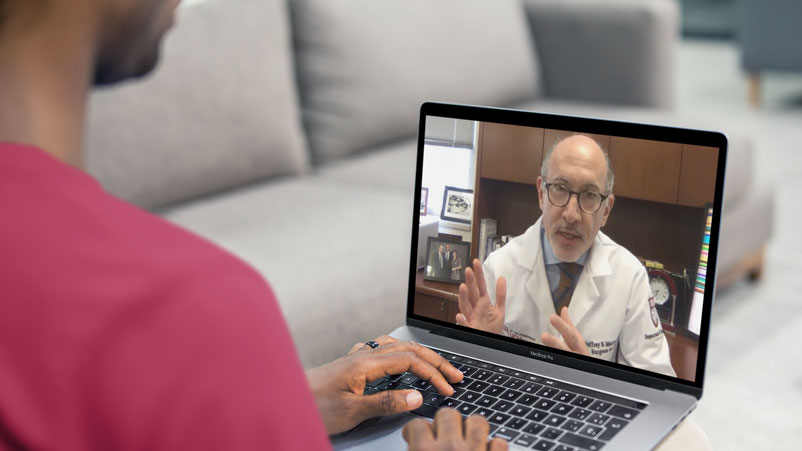 Access World-Class Cancer Care from Home
Whether you need care for a new cancer diagnosis, a cancer recurrence or are seeking a second opinion, a UChicago Medicine cancer care physician is available to provide you care via a secure video visit. New patients and returning patients are welcome to schedule a video visit.
Video visits are similar to in-office visits, but rather than traveling for care to see your oncologist or surgeon, you can video chat with them from home. Our cancer experts can recommend treatment options, give second opinions, send prescriptions to your pharmacy, help you plan for surgery or a procedure, and more.
Our cancer program is designated as a Comprehensive Cancer Center by the National Cancer Institute, the most prestigious recognition possible for a cancer institution. Our care team comprises physicians from several specialties, including medical oncology, radiation oncology, surgery, pediatric oncology, gynecologic oncology, cancer risk and prevention, and others.
Safe, In-Person Cancer Care at Convenient Locations Near You
Should you need in-person care, such as diagnostic tests, chemotherapy, radiation therapy, a physical exam, surgery or other procedure, we'll arrange for a safe visit to our main campus in Chicago's Hyde Park neighborhood or to one of our clinics located throughout the greater Chicago area, including New Lenox, Orland Park and the South Loop.
As one of the nation's safest medical centers, we remain committed to providing outstanding care during these extraordinary times. To continue serving all of our patients, we go above and beyond state and national standards to protect your health and safety while you receive medical care. We are screening all patients, visitors and staff for COVID-19 symptoms and require that everyone who enters our facilities wear a mask. We are practicing strict social distancing and cleanliness protocols, and have implemented new visitor restrictions. As always, all clinical areas are thoroughly cleaned and disinfected after every patient encounter. Learn more about our commitment to providing the safest care possible.