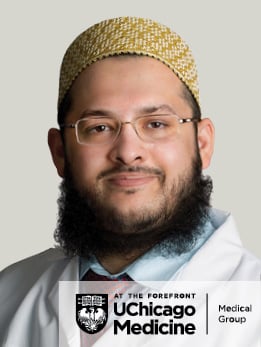 Hematology and Oncology (Cancer) | More
Clinical Associate of Medicine
UChicago Medicine Medical Group is comprised of UCM Care Network Medical Group, Inc. and Primary Healthcare Associates, S.C. UChicago Medicine Medical Group physicians are not employees or agents of The University of Chicago Medical Center, The University of Chicago or UChicago Medicine Ingalls Memorial.
Close
855-702-8222
Murtuza Rampurwala, MD, MPH, is a medical oncologist and hematologist dedicated to caring for patients with cancer and blood disorders. Dr. Rampurwala is focused on providing high-quality, evidence-based care to his patients, including access to novel promising clinical trials. In conjunction with a multidisciplinary team, he delivers personalized treatments for each patient to improve outcomes with the while minimizing impact to their quality of life.

Dr. Rampurwala has special expertise in breast, lung, gastrointestinal and genitourinary cancers. He has extensive translational research experience developing novel clinical trial protocols and has an advanced degree with a Master's in Public Health. Dr. Rampurwala has authored several manuscripts and has presented his research at prestigious meetings, including the American Society of Clinical Oncology and the American Association of Cancer Research annual meetings.

Dr. Rampurwala's practice is based at the University of Chicago Medicine Center for Advanced Care at Orland Park where patients receive the expertise and investigational therapies in a convenient community setting. In addition, he cares for patients at the Duchossois Center for Advanced Medicine on our main campus in Chicago.
UCM Medical Group physicians with privileges at the hospital are independent physicians. They are not employees or agents of the University of Chicago Medical Center or Ingalls Memorial.