Skip to content
The 2022 AACR Annual Meeting resumed in-person in New Orleans
Each year, the American Association for Cancer Research (AACR) Annual Meeting highlights the work of the best minds in cancer research from institutions all over the world. In 2022, the AACR Annual Meeting returned to an in-person format for the first time since the pandemic began. The meeting had more than 15,000 in-person attendees and more than 4,000 virtual attendees, with over 70 countries represented.
The meeting, held April 8-13, 2022, at the Ernest M. Morial Convention Center in New Orleans, LA, was themed "Decoding Cancer Complexity | Integrating Science | Transforming Patient Outcomes." There were a lot of insightful discussions around prevention, early detection, populations sciences and disparities research. The basic and translational science components of the meeting centered around the tumor microenvironment, microbiome, cancer metabolism, machine learning, and much more.
The clinical research presented included biomarker-driven precision medicine; optimal sequencing of immunotherapy with standard treatment in curative settings; immunotherapy targets beyond PD1/L1 and combination strategies; and next-generation adoptive cell therapies.
The University of Chicago Medicine Comprehensive Cancer Center was privileged to take part in the meeting and have our faculty, staff and trainees showcase their groundbreaking research or serve as leaders in the field by chairing or moderating a session.
Selected highlights are featured below:
Chuan He, PhD, John T. Wilson Distinguished Service Professor in the Department of Chemistry and Department of Biochemistry and Molecular Biology, chaired and spoke at an educational session on the roles of RNA methylation in cancer.
Samuel L. Volchenboum, MD, PhD, MS, Associate Professor of Pediatrics, spoke about democratizing pediatric cancer research data through the Pediatric Cancer Data Commons at an educational session.
Sean Pitroda, MD, Assistant Professor of Radiation and Cellular Oncology, spoke at a major symposium on "integrated molecular subtyping to personalize radiation therapy for oligometastatic disease."
Juan Ápiz Saab, a member of the laboratory of Alexander Muir, PhD, Assistant Professor in the Ben May Department for Cancer Research, who studies cancer metabolism, gave a talk that described how myeloid-derived arginase depletes microenvironmental arginine in pancreatic ductal adenocarcinoma tumors and leads to activation of arginine de novo biosynthesis in cancer cells.
Kunle Odunsi, MD, PhD, AbbVie Foundation Director of the Comprehensive Cancer Center, chaired a town hall meeting and networking reception for the Cancer Immunology Working Group.
Ralph Weichselbaum, MD, Daniel K. Ludwig Distinguished Service Professor and Chair of Radiation and Cellular Oncology, moderated a forum on oligometastatic disease. During the forum, Steven Chmura, MD, PhD, Associate Professor of Radiation and Cellular Oncology, gave an update on the current landscape for oligometastases clinical trials.
During a plenary session on precision medicine for immuno-oncology and the promise for the future, Thomas Gajewski, MD, PhD, AbbVie Foundation Professor of Cancer Immunotherapy, described how germline and microbiome variants impact immunotherapy efficacy through modulation of myeloid cells. He also chaired a minisymposium on immunotherapy combination strategies in clinical trials.
Everett E. Vokes, MD, John E. Ultmann Professor and Chair of Medicine, chaired a special joint AACR-ASCO session on pathophysiology and new treatments for cancer-associated thrombosis. Vokes is the current president of ASCO.
M. Eileen Dolan, PhD, Professor of Medicine, and the UCCCC Education Team brought students from the Chicago EYES on Cancer pipeline program, many of whom presented research at an undergraduate poster competition.
The next AACR Annual Meeting will take place in Orlando, FL, April 15-19, 2023.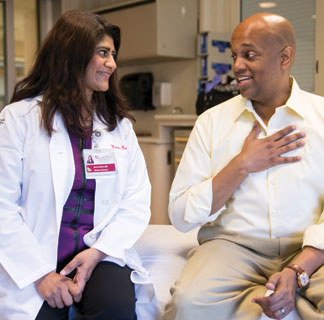 UChicago Medicine Comprehensive Cancer Center
UChicago Medicine is designated as a Comprehensive Cancer Center by the National Cancer Institute, the most prestigious recognition possible for a cancer institution. We have more than 200 physicians and scientists dedicated to defeating cancer.
Learn More About the Comprehensive Cancer Center
Cancer and Research Articles