Formerly the Continuing Umbrella of Research Experience (CURE) program
Chicago EYES (Educators and Youth Enjoy Science) on Cancer is a cancer research training program for high school and college students interested in careers in biomedicine. The program also welcomes secondary science educators.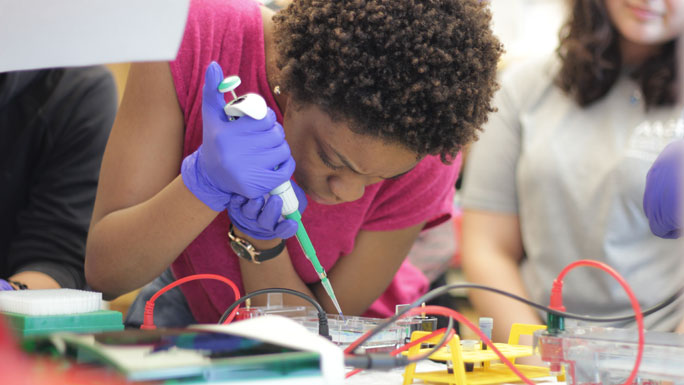 For two consecutive summers, participants work full time in the laboratories of established cancer researchers at the university. Rigorous research training is complemented with a cancer-based summer lecture series, year-round career development and skill-building workshops, and a network of faculty and peer mentors dedicated to participants' success. The program culminates in a research symposium to showcase participants' work across basic, translational, clinical, and population-based areas of cancer research.
Chicago EYES on Cancer is funded by a grant from the National Cancer Institute in addition to generous donations. Programming is provided in part through a partnership with the Museum of Science and Industry, Chicago.
Students Gain Experience Working Side-by-Side with Cancer Researchers
Each summer, the UChicago Medicine Comprehensive Cancer Center opens its doors to the next generation of clinicians and scientists. The programs, Chicago EYES (Educators and Youth Enjoy Science) on Cancer and researcHStart, partner high school students and undergraduates with research faculty to conduct cancer research.
Faculty mentors and student researchers share their experiences
From High School Student to Budding Scientist
A student from the Chicago EYES on Cancer research training program shares her experiences working with UChicago Medicine faculty.
Read Sidney Trotter's story