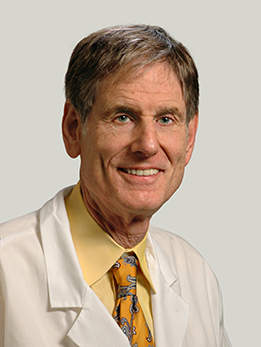 Daniel K. Ludwig Distinguished Service Professor of Radiation and Cellular Oncology
Chair, Department of Radiation and Cellular Oncology
A clinically integrated network of physicians and providers employed by UChicago Medicine who offer care in inpatient, community, ambulatory, acute care or extended care settings.
Close
855-702-8222
Ralph R. Weichselbaum, MD, specializes in the treatment of potentially curative treatment of "oligo" metastasis with radiotherapy.
Dr. Weichselbaum's research interests include mechanisms of tumor spread and how radiation therapy and immunotherapy can be used to better treat cancer. He is also studying patterns of gene expression in human tumors that confer resistance to radiotherapy and chemotherapy. Weichselbaum invented a radio-inducible form of gene therapy TNFerade, which is currently in clinical trials. His research has been funded by the National Institutes of Health for more than 35 years.
He is also editor of Cancer Medicine, a definitive reference textbook compiled to help oncologists and internists apply scientific principles to clinical practice.
Read more from Dr. Ralph R. Weichselbaum