Minimally Invasive Gynecologic Surgery, OB/GYN | More
Assistant Professor of Obstetrics and Gynecology
A clinically integrated network of physicians and providers employed by UChicago Medicine who offer care in inpatient, community, ambulatory, acute care or extended care settings.
Close
773-702-6118
Request an Appointment
Refer a Patient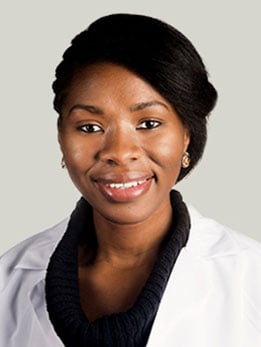 Sandra Laveaux, MD, MPH, provides expert care for women at all life stages, from puberty through menopause. She specializes in the medical and surgical treatment of abnormal uterine bleeding, uterine fibroids, endometriosis and chronic pelvic pain.
Her fellowship training in minimally invasive gynecologic surgery provided Dr. Laveaux with specialized training and expertise in the field of advanced laparoscopy and robotics. She favors a minimally invasive approach to the care of her patients, understanding that this approach leads to less pain, shorter length of hospital stay, faster recovery, improved cosmetics and greater patient satisfaction.
Her surgical areas of expertise include advanced operative office hysteroscopy, as well as vaginal, laparoscopic, robotic and complex open surgical techniques.
Dr. Laveaux is a funded clinical researcher and is well published. She has co-authored multiple book chapters on robotic surgery in benign gynecology. Her research interests include the role of technology in women's health, as well as the local and global impact of technologic advances in the management of abnormal uterine bleeding, uterine fibroids, endometriosis and pelvic pain.
To Request an Appointment
UChicago Medicine at Ingalls - Flossmoor
Request an Appointment at UChicago Medicine at Ingalls - Flossmoor or call UCM Connect at 855-826-3878
Duchossois Center for Advanced Medicine (DCAM) - Hyde Park
Request an Appointment at Duchossois Center for Advanced Medicine (DCAM) - Hyde Park or call UCM Connect at 1-888-824-0200
Ingalls Outpatient Center - Harvey
Request an Appointment at Ingalls Outpatient Center - Harvey or call UCM Connect at 708-333-2300
UChicago Medicine Ingalls Memorial
Request an Appointment at UChicago Medicine Ingalls Memorial or call UCM Connect at 855-826-3878
To Refer a Patient
Refer a Patient
or call UCM Connect at
1-888-824-0200