At the University of Chicago Medicine, our experts are dedicated to improving the lives of our patients with endometriosis. Our team of endometriosis specialists has decades of experience to support you through challenges and discomforts at every step along the way, including:
Correcting or confirming your diagnosis
Providing treatment options to relieve your pain and other symptoms
Offering a second opinion
Performing advanced surgical techniques
Providing fertility treatment
Frequently Asked Questions about Endometriosis
Endometriosis vs. Adenomyosis
Adenomyosis and endometriosis are two different diseases. Some may refer to them as "sister" diseases because they cause similar types of lesions to grow — but in different places. Endometriosis lesions grow outside of the uterus, while adenomyosis lesions grow within the muscle wall of the uterus.
Yes. Endometriosis and adenomyosis can occur at the same time — and they often do. We often use specialized imaging such as pelvic ultrasound and MRI to evaluate your reproductive organs for endometriosis and/or signs of adenomyosis.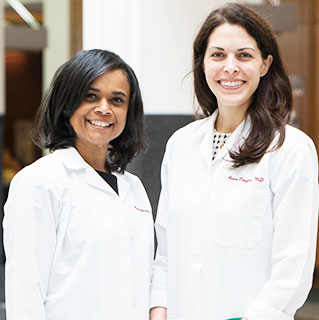 7 Silent Signs You Could Have Endometriosis
UChicago Medicine gynecologists Monica Christmas, MD, and Laura Douglass, MD, help explain signs and symptoms of endometriosis.
Read more
Meet Our Endometriosis Specialists
Obstetrics and Gynecology Articles