Minimally Invasive Myomectomy: Neangela's Story
[MUSIC PLAYING] I was diagnosed with fibroids, and really had some aggressive fibroids. I found out that several of them were extremely large. I had quite a few of them that were in my uterus. So it was really a sad time for me. I was young. I wanted to have children in the future. I was nowhere near that point in my life, like in the relationship, or ready to have children. So it was just kind of disappointing to know that there would be something that might be a stumbling block for that dream to happen.
Neangela came to me thinking that she was going to have to have a hysterectomy. And she had never had children. I offered her opportunities to preserve her uterus by doing a robotic myomectomy in order to take out the large fibroids and still maintain her fertility.
I feel great. I feel like I have my miracle baby, you know? This was a baby that everybody else thought that I wanted to have. But I feel like I have a bond with Dr. Snow, because this is the baby that we hoped for, and that she had confidence that I would be able to have.
In minimally invasive surgery, I performed the procedure through tiny incisions. This allows a patient to get back to their normal activities much more quickly and with much less pain.
Coming to an appointment and feeling like, you know what? She's going to take care of me, and hope's still alive.
Each patient is an individual. I look at each situation and determine what medical treatment is going to be right for that patient. Sometimes, it's surgery. Sometimes, it's medication. I'm able to talk to that patient about exactly what's going to be right for them. Seeing Neangela fulfill her dreams reminds me of why I'm a doctor.
Uterine fibroids are benign (noncancerous) growths in the muscle walls of the uterus. They can be as small as an apple seed or as big as a grapefruit. Fibroids may occur individually or as a cluster. They often increase in size and frequency with age, but may shrink slightly after menopause.
At the University of Chicago Medicine, we offer effective, personalized care for women with uterine fibroids. Our team members are experts in the latest surgical and nonsurgical treatments, including some that are available at only a few medical centers. We want to help you understand the many options available for treating your uterine fibroids and to assist you in making the choice that best meets your physical and personal needs.
About Uterine Fibroids
Diagnosing & Treating Uterine Fibroids
Refer a Patient
Physicians, contact our women's health team to schedule a patient.

Call Us
773-702-6118
Email Us
womenshealth@uchospitals.edu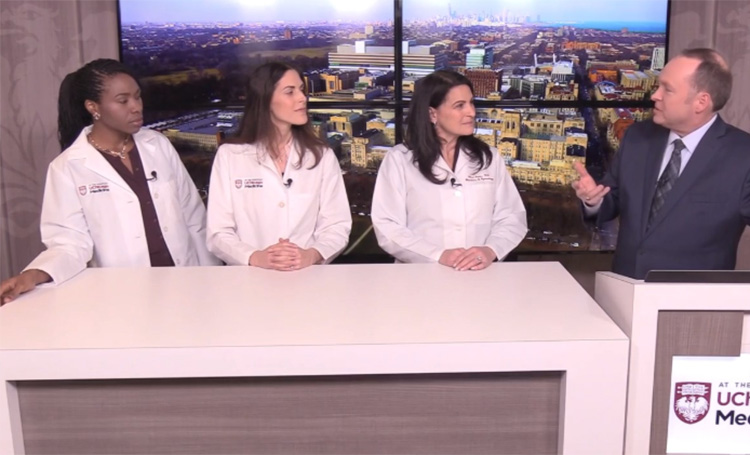 Request an Appointment
Please complete this secure form. The information you provide will enable us to assist you as efficiently as possible. A representative will contact you within one to two business days to help you schedule an appointment.

Please note this electronic request form is not for same- or next-day appointments. If you prefer to speak to someone directly, please call 1-888-824-0200. If you have symptoms of an urgent nature, please call your doctor or go to the emergency room immediately.

Women's Health Related Articles