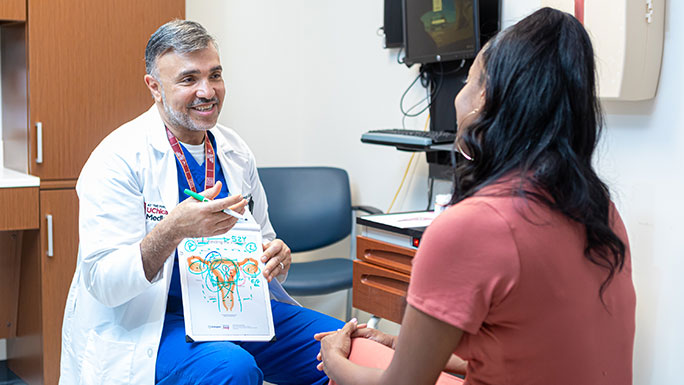 At the Center for the Advanced Treatment and Research (CATeR) of Uterine Fibroids, our doctors take pride in being one of Chicago's most experienced teams of fibroid treatment specialists. We can support even the most complex personalized care plans.
Our team of University of Chicago Medicine experts includes:
Gynecologists
Minimally invasive gynecologic surgeons
Interventional radiologists
Urogynecologists (pelvic surgeons)
Reproductive endocrinologists (fertility specialists)
Obstetricians
Maternal-fetal medicine physicians
Mental health specialists
And more
In addition to our physician experts, our team of specially trained nurses, sonologists and technologists is dedicated to providing the best possible care for each patient.
When to See a Doctor for Fibroid Treatment
Whether your symptoms are mild or severe, our experienced team of experts can perform a thorough evaluation and create a care plan to support your short- and long-term health goals.
You might consider seeing a specialist sooner than later if:
Your symptoms disrupt your quality of life.
Your symptoms seem unmanageable.
You want to plan a pregnancy and you're concerned about how fibroids may affect your fertility.
Your current treatment plan doesn't seem to work for you and you want a second opinion.
Request an Appointment
The information you provide will enable us to assist you as efficiently as possible. A representative will contact you within one to two business days to help you schedule an appointment.
You can also make an appointment with our providers by:
– Scheduling a virtual video visit to see a provider from the comfort of your home
– Requesting an online second opinion from our specialists
– Filling out an online questionnaire (e-visit) to get a same-day diagnosis and treatment for common conditions.
To speak to someone directly, please call 1-888-824-0200. If you have symptoms of an urgent nature, please call your doctor or go to the emergency room immediately.