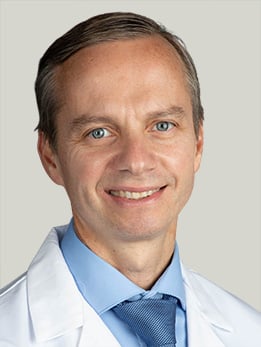 Professor of Surgery Director, Liver, Kidney and Pancreas Transplantation
Associate Director, Transplant Institute
UChicago Faculty Physicians hold faculty positions with the University of Chicago and provide care for patients on the academic health system's main campus in Hyde Park and in care centers throughout the Chicago region.
Close
773-702-6140
Rolf Barth, MD, is an expert surgeon specializing in liver, kidney and pancreas transplantation, with a focus on living donor kidney and living donor liver transplants. Dr. Barth is committed to finding innovative treatment options for liver, kidney and pancreatic disease with the goal of improving outcomes and overall quality of life for his patients. His skill, experience and unwavering dedication to enhancing care for organ transplantation allowed Dr. Barth to pioneer minimally invasive surgery for living kidney donation. He also performed the first scarless single-port laparoscopic donor nephrectomies (kidney removal), and has gone on to successfully complete this procedure over 500 times.
Dr. Barth is an avid researcher, with interests that span both clinical and basic research. His research laboratory has evaluated novel immunosuppressive therapies, immunologic tolerance and the use of genetically engineered animal organs for human transplantation (xenotransplantation). Dr. Barth also investigated transplant tolerance and pre-clinical models of composite facial and limb transplantation, toward the clinical goal of reconstructive transplantation.
His research has been published in highly respected, peer-reviewed journals, including Annals of Surgery, American Journal of Transplantation, Lancet, and many others.
Laparoscopic Donor Nephrectomy at UChicago Medicine
Dr. Rolf Barth explains a minimally invasive kidney donor transplant surgery that leaves a small scar in the belly button.

What to know about living organ donation
Why are living kidney and liver donations important? Are there risks to living donation surgery? Dr. Barth answers questions about living donation and how advanced technology has made the surgery safer for the organ donors.