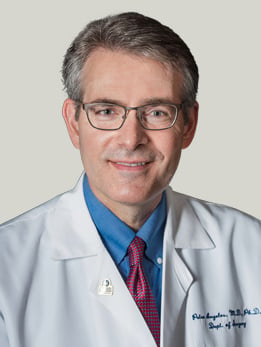 Endocrine Surgery, General Surgery, Surgery | More
Linda Kohler Anderson Professor of Surgery Chief, Endocrine Surgery
Associate Director, MacLean Center for Clinical Medical Ethics
UChicago Faculty Physicians hold faculty positions with the University of Chicago and provide care for patients on the academic health system's main campus in Hyde Park and in care centers throughout the Chicago region.
Close
773-834-3524
Peter Angelos, MD, PhD, is a highly regarded surgeon who has extensive experience in surgery of the
thyroid
,
parathyroid
and adrenal glands. He is also an expert in treating
endocrine cancers
, including thyroid, parathyroid and adrenocortical cancers, as well as islet cell tumors of the pancreas.
Dr. Angelos has a special interest in minimally invasive endocrine surgery, a type of surgery that is performed through small incisions. Minimally invasive surgery has many benefits for patients -- from less scarring and pain, to a shorter hospital stay and a quicker recovery.
An accomplished author, Dr. Angelos has published many journal articles and book chapters on his research into improving outcomes of
thyroid and parathyroid surgery,
minimally invasive endocrine surgery and best practices for
thyroid cancer
treatment.
Dr. Angelos is a recognized expert in medical ethics, and serves as associate director of the
University of Chicago MacLean Center for Clinical Medical Ethics
. He has written widely on ethical issues in surgical practice and how to best teach medical ethics to surgical residents.
He is past president of the American Association of Endocrine Surgeons.