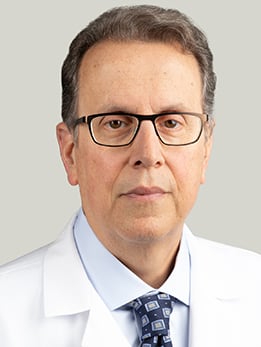 Gastrointestinal Surgery (GI Surgery), Surgical Oncology, General Surgery | More
Thomas D. Jones Professor of Surgery Chief, Section of General Surgery
Chief, Surgical Oncology
Physician-in-Chief, Comprehensive Cancer Center
UChicago Faculty Physicians hold faculty positions with the University of Chicago and provide care for patients on the academic health system's main campus in Hyde Park and in care centers throughout the Chicago region.
Close
773-834-3524
With a reputation earned as a leading authority in the management of upper gastrointestinal cancers, Mitchell Posner, MD, ranks among the country's best doctors. Dr. Posner couples his skill as a cancer surgeon with a commitment to multidisciplinary care, providing his patients with optimal outcomes.
Dr. Posner performs surgical procedures for the treatment of gastrointestinal cancers, including:
Dr. Posner's work goes beyond the operating room. In the lab, he focuses on the molecular basis of malignancies, which has enabled him to design and guide groundbreaking clinical trials for cancers of the pancreas, esophagus, colon, stomach, rectum and liver. With more than 30 years of experience, he has won dozens of awards and published 250 articles, abstracts and book chapters.
He has won the University of Chicago's Robert J. Baker Award for Excellence in Teaching, as well as the Basic Science and Clinical Research Award from the Society of Surgical Oncology.
Dr. Posner has held several leadership positions during his distinguished career. He is past-president of the Society of Surgical Oncology. He is deputy editor of the Annals of Surgical Oncology and section editor for the gastrointestinal cancer section of the journal Cancer. He served as chairman of the Gastrointestinal Committee of the American College of Surgeons Oncology Group (ACOSOG).