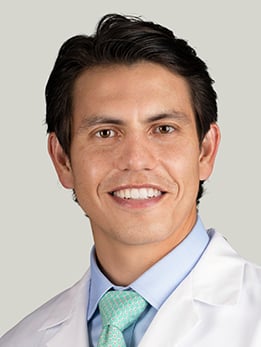 Assistant Professor of Orthopaedic Surgery and Rehabilitation Medicine
UChicago Faculty Physicians hold faculty positions with the University of Chicago and provide care for patients on the academic health system's main campus in Hyde Park and in care centers throughout the Chicago region.
Close
773-834-3531
My name is Jeffrey Stepan. I'm part of the orthopedic surgery department. I'm one of the orthopedic hand and upper extremity surgeons here at the University of Chicago. As one of the hand surgeons, what I love about it is I'm able to treat a variety of different diseases and illnesses of the upper extremity from trauma to brachial plexus, reconstruction and nerve surgery, to limb salvage. All the way down to simple hand conditions such as carpal tunnel, fractures of the hand and wrist, as well as arthritis and tendonitis.

I know the physician office can be a very scary and intimidating place for a lot of patients, and so no matter how many patients I'm seeing in a day or how many surgeries I'm doing, I think it's important for me to step back a little bit and really put myself in the patient's shoes and understand that this might be their first surgery or this might be their first time seeing a surgeon. And making sure that the patient feels comfortable, and then that way I'm able to discuss and find out what their hobbies, activities, and goals for getting back to where they want to be. And with that, I'm able to form with the team-- the hand therapists, the nurses, the physical therapists-- the best management options, whether that be surgery or not for the patient.

During medical school, we rotate through all sorts of different specialties of medicine, and what really stuck out to me in orthopedic surgery, as well as hand surgery, is the ability to make a quick difference in patients' lives. Whether that's getting them back to doing sports such as golf, or tennis, or any job-specific hobbies, all the way down to just performing simple activities of daily living that they weren't able to do before. And that gratification and satisfaction of helping the patient get to where they want to be and reach those goals is why I chose orthopedics and hand surgery in specific.
Jeffrey G. Stepan, MD, MSc, is a highly skilled orthopaedic hand and upper extremity surgeon specializing in the treatment of traumatic injuries and atraumatic conditions of the hand, wrist, and elbow in adult and pediatric patients. Dr. Stepan has specialized training and expertise in upper extremity reconstruction, peripheral nerve surgery, congenital and pediatric hand surgery, microvascular surgery, and management of sports injuries of the hand and wrist.
Along with his commitment to his clinical practice, Dr. Stepan uses research to further improve care for his patients. His clinical and research interests include tracking patient-rated outcome measures to determine which management solution(s) deliver the best results and overall quality of life to optimize patient care.
Dr. Stepan is also evaluating alternative methods for pain management after hand surgery to both improve pain control and reduce the need for narcotic pain medication. He has been awarded multiple grants and research awards for his work, which have been published in various highly regarded, peer-reviewed orthopaedic and hand surgery journals, including Journal of Hand Surgery, Journal of Bone and Joint Surgery, Plastics and Reconstructive Surgery, HAND and The Bone and Joint Journal.