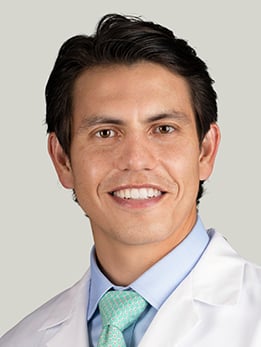 Assistant Professor of Orthopaedic Surgery and Rehabilitation Medicine
UChicago Faculty Physicians hold faculty positions with the University of Chicago and provide care for patients on the academic health system's main campus in Hyde Park and in care centers throughout the Chicago region.
Close
773-834-3531
Jeffrey G. Stepan, MD, MSc, is a highly skilled orthopaedic hand and upper extremity surgeon specializing in the treatment of traumatic injuries and atraumatic conditions of the hand, wrist, and elbow in adult and pediatric patients. Dr. Stepan has specialized training and expertise in upper extremity reconstruction, peripheral nerve surgery, congenital and pediatric hand surgery, microvascular surgery, and management of sports injuries of the hand and wrist.
Along with his commitment to his clinical practice, Dr. Stepan uses research to further improve care for his patients. His clinical and research interests include tracking patient-rated outcome measures to determine which management solution(s) deliver the best results and overall quality of life to optimize patient care.
Dr. Stepan is also evaluating alternative methods for pain management after hand surgery to both improve pain control and reduce the need for narcotic pain medication. He has been awarded multiple grants and research awards for his work, which have been published in various highly regarded, peer-reviewed orthopaedic and hand surgery journals, including Journal of Hand Surgery, Journal of Bone and Joint Surgery, Plastics and Reconstructive Surgery, HAND and The Bone and Joint Journal.