Advanced Hand and Wrist Treatment Tailored to Your Needs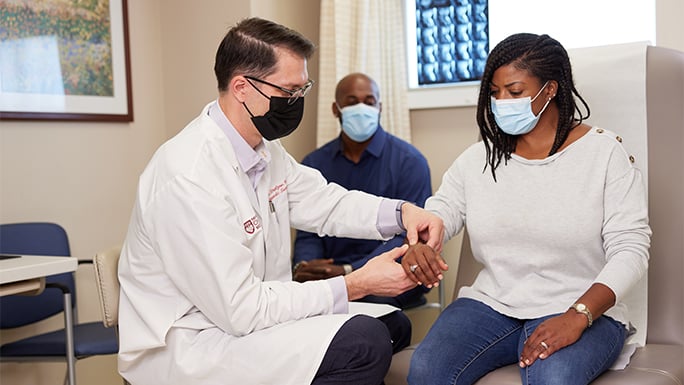 The orthopaedic experts at the University of Chicago Medicine's Musculoskeletal Center know that everything from intricate workmanship to sporting activities need healthy hands and wrists. That's why we personalize our services to provide the most effective care for our patients. Our team includes recognized leaders in the treatment of hand and wrist injuries. And our goal is simple: relieve any pain and discomfort so we can restore your strength, motion, dexterity, form and function.
Hand and Wrist Pain Causes
Identifying your specific hand and wrist pain is a critical first step as we determine which treatment option(s) are the most effective for your bone pain, wrist and hand joint pain and nerve damage.
Common conditions that lead to hand pain and wrist injuries include:
Carpal tunnel syndrome
Complex hand and wrist reconstruction for complications related to prior treatment
Complex traumas to the hand and/or wrist

Congenital hand anomalies in children

Broken hand and/or broken wrist

Ganglion cyst
Lacerations or disruption in ligaments and tendons in the hand
Nerve injuries of the arm including the brachial plexus
Arthritis in the hand and wrist (rheumatoid arthritis and degenerative arthritis)
Severed hand or finger
Soft tissue (synovial membrane) inflammation
Stiff joints and Dupuytren's contracture
Trigger finger
Hand and wrist tumors
hand/wrist tendonitis
Treatment Services for Hand and Wrist Pain
Services for patients include nonsurgical and surgical approaches. Our orthopaedic doctors are at the forefront of hand surgery for complex conditions. In fact, we developed techniques for ligament reconstruction and flexor tendon repairs that are now standard protocol across the country. Through advanced techniques and innovative options, we remove damaged joints, design implants, repair tears and offer surgeries with less pain, less scarring and shorter recoveries.
We personalize every treatment so we are meeting your specific needs. With our specialized expertise, we offer everything from minimally invasive surgery and microsurgical reconstructions to medication, steroid injections and lifestyle changes.
Options for Hand Surgery and Wrist Surgery
Grafting
Corrective surgery
Hand reconstructive surgery
Microsurgical reconstruction
Limb salvage/reimplantation
Nerve repair
Tendon and nerve transfers
Joint replacement (arthroscopy)
Total wrist replacement
Wrist arthroscopy
UChicago Medicine Orthopaedic Hand and Wrist Locations
Learn more about orthopaedic care