Experienced Orthopaedic Specialists for Shoulder & Elbow Relief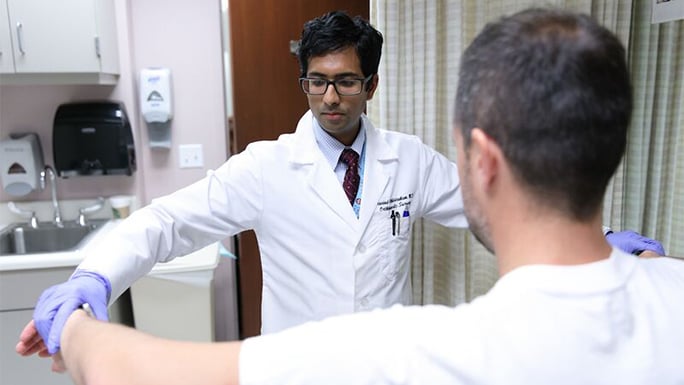 Elbow and Shoulder Pain Causes
Shoulder and elbow pain due to injuries or wear and tear on your bones, muscles or tendons can impact your arm's mobility and functionality. The most common cause of elbow and shoulder pain is tendinitis — an inflammation and injury to the tendons — that's caused by overuse.
We provide treatment for the following shoulder injuries and wrist pain caused by:
Bone spurs in the shoulder or elbow
Frozen shoulder
Fractures (broken shoulder/elbow fracture), including those that do not heal (non-union) or heal incorrectly (malunion)
Labrum tears including SLAP tear (injury at the top of the labrum)

Instability, separation or dislocation,

Nerve damage in the shoulder or elbow
Repetitive motion injuries to the shoulder or elbow
Rotator cuff injury or tear/impingement syndrome
Scapula winging and abnormal movement of the shoulder blade
Elbow and shoulder arthritis

Shoulder muscle injury

Tendinitis in the shoulder or elbow
Bursitis shoulder or elbow
Tennis elbow
If you're experiencing pain when lifting your arm or moving it forward or behind your back, our expert orthopaedic specialists will be able to help assess your pain, diagnose your injury and develop a treatment plan.
Tailored Elbow and Shoulder Pain Treatment
When using RICE (rest, ice, compression and elevation) and home remedies, such as exercise, medicines to reduce pain and swelling, are not enough, we design individualized treatment plans tailored to each patient's needs and goals, and we maximize use of nonsurgical options before considering surgery.
When surgery is necessary, our orthopaedic surgeons offer innovative and advanced operative therapies to repair shoulder and elbow injuries, including both minimally invasive (arthroscopic) and open surgery options for teens and adults. We strive to help patients regain full function and return to their daily activities as soon as possible.
Elbow and Shoulder Surgery Services
Latarjet procedure (coracoid transfer for instability)

Revision surgery after prior operative treatment for shoulder or elbow

Reverse shoulder replacement surgery (when the patient has a rotator cuff tear, this procedure uses deltoid muscles to work and position the arm)

Shoulder arthroscopy for rotator cuff, biceps, labrum tear and bone injury

Tendon transfers

Total shoulder replacement surgery

Elbow replacement surgery
We work closely with your physical or occupational therapist to maximize results for non-operative, pre-operative and post-operative treatment.
Learn About Our Surgical Treatments
The shoulder is a ball-and-socket joint. The round end of the arm bone fits into the opening at the end of the shoulder blade, called the socket. During total shoulder replacement, the round end of the arm bone is replaced with an artificial stem that has a rounded metal head. The socket part (glenoid) of the shoulder blade is replaced with a smooth plastic shell or lining that is held in place with a special cement. If only one of these two bones needs to be replaced, the surgery is called a partial-shoulder replacement, or a hemiarthroplasty.
Patients with bone-on-bone osteoarthritis and intact rotator cuff tendons are generally good candidates for this type of surgery.
Another type of shoulder replacement is called reverse shoulder replacement surgery. It is generally used for people who have completely torn rotator cuffs with severe arm weakness; cuff tear arthropathy or severe arthritis with a torn rotator cuff; had a previous shoulder replacement that failed.
For these patients, a conventional shoulder replacement can still leave them with severe pain or unable to lift their arm up past a 90-degree angle. In the "reverse" procedure, the socket and metal ball are switched, meaning the metal ball is attached to the shoulder bone, and a plastic socket is attached to the upper arm bone. This allows the patient to use the deltoid muscle instead of the torn rotator cuff to lift the arm.
The Copeland™ Shoulder is a revolutionary surgery done on people with arthritic shoulders that in the past were only candidates for a total shoulder replacement. For patients are in the early stages of arthritis, this surgery preserves the bone in the shoulder and provides a secure fit for the new bone to grow into the implant.
The typical patient is someone who has had multiple surgeries on their shoulder and has been told they are too young to have a shoulder replacement. Unlike a total shoulder implant, the Copeland™ is designed to cap only the top of the humerus, requiring much less bone and cartilage removal.
Find an Orthopaedic Location Near You
Learn more about orthopaedic care