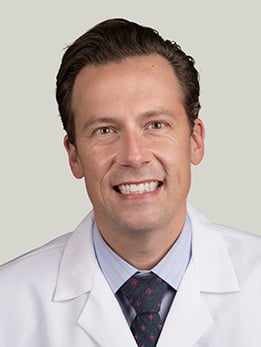 Orthopaedic Surgery, Sports Medicine | More
Assistant Professor of Orthopaedic Surgery and Rehabilitation Medicine
UChicago Faculty Physicians hold faculty positions with the University of Chicago and provide care for patients on the academic health system's main campus in Hyde Park and in care centers throughout the Chicago region.
Close
773-834-3531
Nicholas Maassen, MD, is an expert orthopaedic surgeon who specializes in elbow and shoulder injuries. Dr. Maassen's primary focus is treating patients suffering from soft tissue (muscle, tendon and ligament) injuries, shoulder/elbow arthritis, and fractures in the upper extremity.
Dr. Maassen combines his clinical expertise with on-going investigative research efforts in the hopes of pioneering techniques and therapies that improve care for patients with complex orthopaedic disorders and injuries. Currently, Dr. Maassen is evaluating repair techniques for rotator cuff tears and shoulder instability so he can offer a wide range of quality treatment options. He has also been published in a number of highly respected journals, including the Journal of Shoulder and Elbow Surgery, Arthroscopy, Journal of Orthopaedic Trauma and Journal of Bone and Joint Surgery.