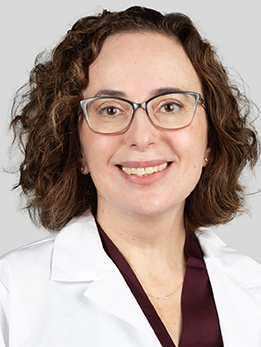 Dermatology, Dermatologic Oncology (Skin Cancer) | More
Associate Professor of Medicine Interim Chief, Section of Dermatology
Ambulatory Practice Manager, Dermatology
Director, Mohs Micrographic Surgery
UChicago Faculty Physicians hold faculty positions with the University of Chicago and provide care for patients on the academic health system's main campus in Hyde Park and in care centers throughout the Chicago region.
Close
773-702-1611
Diana Bolotin, MD, PhD, has expertise in the full range of medical and surgical treatments for skin cancer. She specializes in Mohs micrographic surgery, an advanced technique for the removal of certain types of skin cancer. Dr. Bolotin also performs laser surgery, including treatments for blood vessel abnormalities, hair removal, and skin resurfacing and rejuvenation.
An expert in molecular genetics and cell biology, Dr. Bolotin focuses her research on understanding how normal skin cells transform into cancer cells. She is also interested in studying and evaluating new skin cancer therapies.
Dr. Bolotin is the author of multiple peer-reviewed journal articles and textbook chapters in her field. Additionally, she gives presentations at regional and national dermatology meetings. A recipient of many awards, Dr. Bolotin has also been honored with a Chicago Dermatologic Society research grant.
Adult Dermatology with Dr. Diana Bolotin: Things You're Too Embarrassed to Ask a Doctor Podcast
Things You're Too Embarrassed To Ask A Doctor is UChicago Medicine's podcast dedicated to answering some of the most searched medical questions on the Internet. This episode features dermatologist Diana Bolotin, MD. Listen as Dr. Bolotin answers questions related to adult dermatology. Today's questions include things like, "Why do I still have adult acne?" and more.