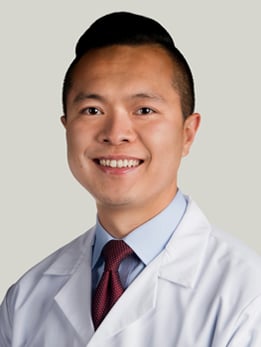 Hematology and Oncology (Cancer) | More
Assistant Professor of Medicine
UChicago Faculty Physicians hold faculty positions with the University of Chicago and provide care for patients on the academic health system's main campus in Hyde Park and in care centers throughout the Chicago region.
Close
855-702-8222
Chih-Yi "Andy" Liao is a medical oncologist and expert on
bile duct cancer
, advanced thyroid cancer, and gastrointestinal neuroendocrine tumors (GI-NETs) stemming from the hormonal and nervous systems. A member of the University of Chicago Medicine's renowned gastrointestinal oncology team, Dr. Liao also is part of the multidisciplinary liver tumor program.
As a clinical investigator, Dr. Liao develops and conducts clinical trials to evaluate targeted therapies and immunotherapies for bile duct cancers and GI-NETs. He also pursues new therapies for patients with advanced thyroid cancer.