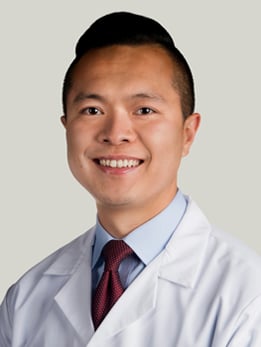 Hematology and Oncology (Cancer) | More
Assistant Professor of Medicine
A clinically integrated network of physicians and providers employed by UChicago Medicine who offer care in inpatient, community, ambulatory, acute care or extended care settings.
Close
855-702-8222
Chih-Yi "Andy" Liao is a medical oncologist and expert on
bile duct cancer
, advanced thyroid cancer, and gastrointestinal neuroendocrine tumors (GI-NETs) stemming from the hormonal and nervous systems. A member of the University of Chicago Medicine's renowned gastrointestinal oncology team, Dr. Liao also is part of the multidisciplinary liver tumor program.
As a clinical investigator, Dr. Liao develops and conducts clinical trials to evaluate targeted therapies and immunotherapies for bile duct cancers and GI-NETs. He also pursues new therapies for patients with advanced thyroid cancer.