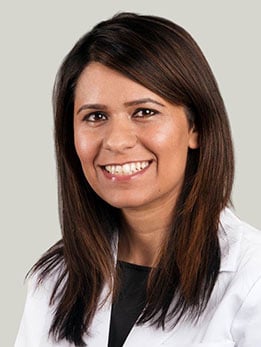 Hematology and Oncology (Cancer) | More
Assistant Professor of Medicine
UChicago Faculty Physicians hold faculty positions with the University of Chicago and provide care for patients on the academic health system's main campus in Hyde Park and in care centers throughout the Chicago region.
Close
773-702-8222
Ardaman Shergill, MD, is a skilled oncologist who specializes in providing comprehensive care to patients with all stages of lung and gastrointestinal cancers, with an expertise in treating colon, rectal and appendix cancers.
In combination with her clinical work, Dr. Shergill uses research to improve care for her patients. Currently, she is developing novel therapies so she can offer her patients' innovative clinical trials for lung and gastrointestinal cancers. Dr. Shergill is also an executive officer for experimental therapeutic trials at Alliance for Clinical Trials in Oncology, a National Cancer Institute funded oncology research organization.
Dr. Shergill is an active researcher and she has been published in several peer-reviewed journals, including Cancer Informatics, Clinical Lymphoma, Myeloma and Leukemia and the Journal of Pharmacology & Experimental Therapeutics.