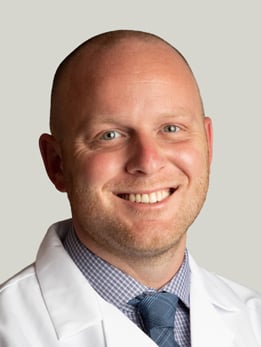 Assistant Professor of Obstetrics and Gynecology
A clinically integrated network of physicians and providers employed by UChicago Medicine who offer care in inpatient, community, ambulatory, acute care or extended care settings.
Close
773-702-6118
Andrew Fisher, MD, specializes in obstetric and gynecologic medicine and delivers comprehensive well women care. Dr. Fisher treats a wide range of conditions affecting women, including abnormal uterine bleeding, opioid use disorder in pregnancy, hormone therapy for gender affirming transgender patients and more.
Dr. Fisher is also an expert in transabdominal cerclage (TAC), a procedure that strengthens the cervix during pregnancy for women who have a weakened or short cervix to prevent premature labor.
To elevate his clinical practice, Dr. Fisher evaluates new and improved treatments and techniques to enhance the lives of his patients. His recent research has investigated the risk factors associated with fertility preservation in transgender patients. Dr. Fisher's work has been published in several highly respected peer-reviewed journals, including Fertility and Sterility and Biophysical Journal.