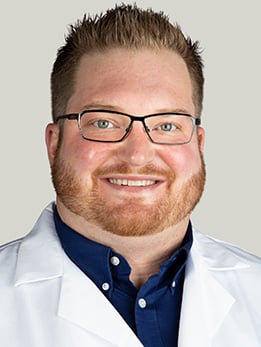 Hematology and Oncology (Cancer) | More
Assistant Professor of Medicine
UChicago Faculty Physicians hold faculty positions with the University of Chicago and provide care for patients on the academic health system's main campus in Hyde Park and in care centers throughout the Chicago region.
Close
773-702-6149
Adam DuVall, MD, MPH, specializes in the diagnosis and treatment of cancer for adolescents and young adults. Dr. DuVall's training in both adult and pediatric hematology/oncology makes him uniquely qualified to care for patients spanning pediatrics through to adulthood. He primarily focuses on acute leukemias, lymphoma and complex cancer predisposition syndromes, such as familial platelet disorder, hereditary anemias and bone marrow failure syndromes, Li-Fraumeni syndrome and more. As part of the Adolescent Young Adult Cancer Program, he provides comprehensive cancer care for teenage and young adult patients with cancer.
As a clinician-scientist, Dr. DuVall explores translational and clinical research, finding ways to adapt new treatments/therapies into bedside care for young teens with cancer. His innovative clinical trials bring novel therapies to the forefront of leukemia treatment and his collaboration with basic scientists allows him to examine novel therapeutic options for genetic syndromes. Dr. DuVall also recognizes the impact of cancer therapy on all aspects of his patients' lives, so he participates in research aimed at decreasing the impact of therapy on the psychosocial development of his patients.