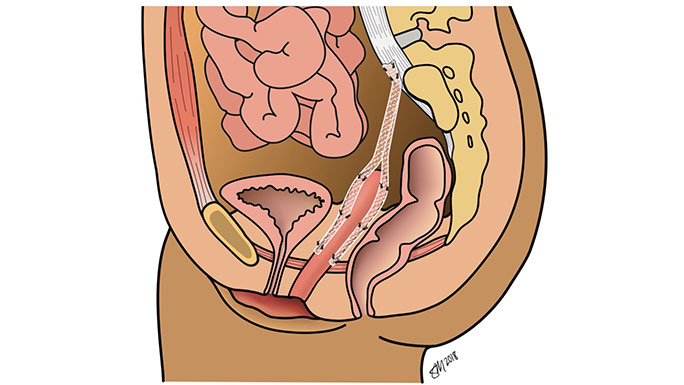 Sacrocolpopexy is the most durable surgical option for patients with vaginal or uterovaginal prolapse. This surgery repairs the vaginal prolapse by restoring the support of the vagina and reinforcing the repair with a hernia mesh. It can be performed in women who have a uterus or have previously undergone a hysterectomy. In women with a uterus, it can be performed along with a hysterectomy. Or, if a woman wishes to preserve her uterus, it can be modified to accommodate this.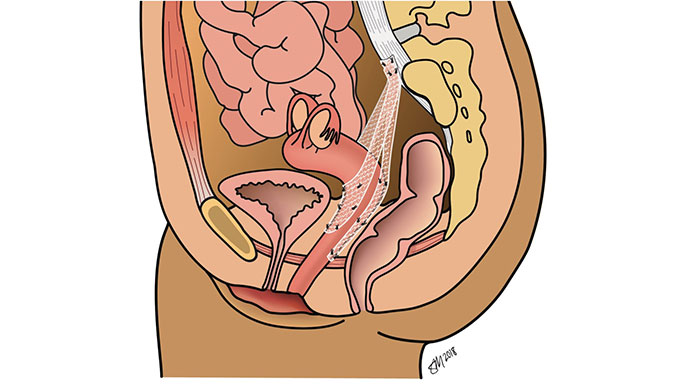 How is this surgery performed?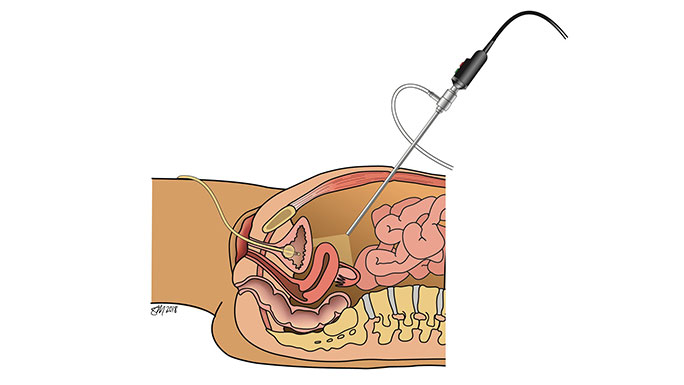 Modern day sacrocolpopexy is performed through a minimally invasive abdominal approach, using either conventional laparoscopy or robotic assistance. These approaches involve several small abdominal incisions and are performed under general anesthesia.
At the University of Chicago Medicine, our board-certified urogynecologic surgeons are among the first in the nation to offer the most minimally invasive, robotic assisted procedures which are performed through one incision buried in the belly button. With the use of a cutting-edge Sigle Port Robotic platform, a 1.5-centimeter incision is made in the belly button, through which the entire procedure is performed. This allows for an improved recovery and healing process with minimal scarring.
Regardless of the route, the sacrocolpopexy procedure is the same. Your urogynecologic surgeon attaches the top of the vagina to a strong ligament (connective tissue) along the sacral spine (between your lower back and tailbone) using a synthetic mesh.
How successful is this surgery?
Sacrocolpopexy is well researched with positive clinical findings published in top-tier surgical journals. These investigations have confirmed that sacrocolpopexy is the most successful surgery for treating vaginal or uterovaginal prolapse with long term success rates of 85-90% with little risk of prolapse recurrence.
What are the risks?
The surgical safety and efficacy of sacrocolpopexy has been thoroughly evaluated over many years through national and international clinical trials. These studies have characterized the potential unique complications of the procedure, including what is referred to as mesh exposure (a small portion of the mesh can become exposed in an area of the vagina). When the procedure is performed by a board-certified urogynecologic surgeon, this complication is rare and easily managed with non-surgical and surgical techniques.
What does recovery look like?
Owing to the minimally invasive approaches used by your UChicago Medicine urogynecologic surgeon, you will be able to go home the same day as your surgery.
Enhanced Recovery After Surgery (ERAS) Program
To help you properly heal and get back to do the activities you love, our urogynecologists have developed an Enhanced Recovery After Surgery (ERAS) Program to reduce post-operative pain, nausea and fatigue. As quality-of-life surgeons, we are passionate about restoring your quality of life, and aim to return you to the activities that you find interest in as quickly as safely possible. We allow you to resume activity as you see fit, listening to your body and its response to physical activity. However, we do ask you to refrain from sexual activity for several weeks while the stitches in your vagina heal. Most women feel back to normal within two to four weeks following surgery.
Find a Urogynecologist Near You
Learn More About Urogynecology and Pelvic Floor Conditions