The University of Chicago Medicine has committed significant resources to increasing awareness of
stroke symptoms
and prevention. By educating the community about the risk of stroke, and by encouraging individuals to take action to minimize those risks, more lives will be spared from this devastating disease.
What is a stroke?
A stroke (also called a "cerebrovascular accident") occurs when blood vessels carrying oxygen and other nutrients to a specific part of the brain suddenly burst or become blocked. When blood fails to get through to the affected parts of the brain, the oxygen supply is cut off, and brain cells begin to die.
Types of Strokes
Strokes fall into several major categories based on whether the disrupted blood supply is caused by a blocked blood vessel or a hemorrhage. Since each type of stroke has a different type of treatment, it is very important for the physician to determine the cause of the stroke, as well as the location, as quickly as possible.
Ischemic Stroke
Ischemic stroke results from a blocked blood vessel, either within an artery in the brain (thrombotic stroke), or in another artery within the body, and the clot or blockage breaks loose and travels to the brain (embolic stroke). Thrombotic is the most common type of ischemic stroke, with a blood clot forming inside an artery in the brain, blocking blood flow. Sometimes, the clot occurs in one of the neck arteries (carotid or vertebral) that transports blood from the heart to the brain. Blood clots form most often in arteries damaged by atherosclerosis, a disease in which rough, fatty deposits build up on the walls of the arteries and project into the bloodstream. These deposits gradually narrow the passageway, causing the blood flow to slow down and, sometimes, to completely occlude (block) the artery.
Hemorrhagic Stroke
The other main category of stroke, hemorrhagic stroke, occurs when a blood vessel in or around the brain ruptures, spilling blood into the brain or the area surrounding the brain. When this occurs, the cells nourished by the artery fail to get their normal supply of nutrients and cease to function properly. Furthermore, the accumulated blood from the ruptured artery soon clots, displacing normal brain tissue and disrupting brain function. Cerebral hemorrhage is most likely to occur in people who suffer from a combination of atherosclerosis and high blood pressure.
About Risk Factors, TIA & Prevention
Telemedicine at UChicago Medicine

Schedule a Video Visit
For your convenience and safety, we offer secure and easy virtual visits for most non-urgent visit types. Our care providers can assess your symptoms, make a diagnosis, recommend treatment and send prescriptions to your pharmacy.

Get a Second Opinion Online
Whether you are facing a complex health issue or difficult treatment decision, getting a second opinion can help you make an informed decision about your care. Get an online second opinion from one of our experts without having to leave home.

Submit an E-Visit
Complete an online questionnaire (e-visit) through your MyChart account to get a same-day diagnosis and a treatment plan from UChicago Medicine clinicians for common conditions.
Request an Appointment
The information you provide will enable us to assist you as efficiently as possible. A representative will contact you within one to two business days to help you schedule an appointment.
You can also make an appointment with our providers by:
– Scheduling a virtual video visit to see a provider from the comfort of your home
– Requesting an online second opinion from our specialists
– Filling out an online questionnaire (e-visit) to get a same-day diagnosis and treatment for common conditions.
To speak to someone directly, please call 1-773-702-6222. If you have symptoms of an urgent nature, please call your doctor or go to the emergency room immediately.
Coronavirus (COVID-19) information for stroke survivors, neurology patients and caregivers
University of Chicago Medicine neurologist Shyam Prabhakaran, MD, MS, answers questions about coronavirus for neurology patients and stroke survivors.
Read more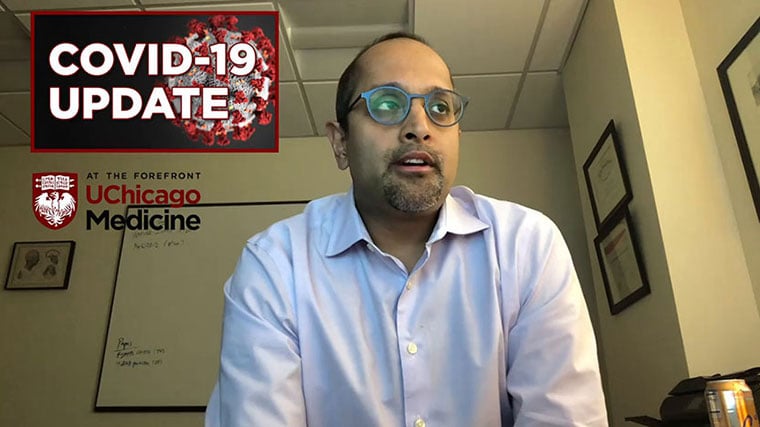 Neurology & Neurosurgery Related Articles