The University of Chicago Medicine is a leader in diagnosing and treating a full range of lung diseases. Our physicians regularly participate in research aimed at improving options for people with lung diseases. And our experts use the latest technology to provide the best care for patients.
Less Invasive Option Provides Unparalleled Access
We were the first hospital in Illinois to use the superDimension Electromagnetic Navigation System to biopsy nodules, masses, cancers and other medical concerns within the maze of the lungs' airways. This technology extends significantly beyond the capabilities of standard bronchoscopes, enabling physicians to locate pre-cancerous and cancerous lesions deep within the airways — without any incisions or surgery. Previous methods were more invasive with more complications.
At UChicago Medicine, we have more experience than any other Illinois hospital in using this advanced bronchoscopy system and we were the first hospital in the state to acquire and use this next-generation equipment. Our Advanced Bronchoscopy Center, which is part of the Center for Advanced Lung Diseases, is a regional leader in using this state-of-the-art technology to reach lesions that previously were only accessible through surgical means — or that could not be reached at all. With this innovative technology, cancerous lesions buried in the bronchial airways can be reached and biopsied without any incisions for access. No incisions mean there is no scarring, minimal discomfort and a shorter recovery time that allows patients to resume normal activities quickly. The procedure is performed on an outpatient basis.
We are also the first hospital in the Midwest to acquire the new Auris Monarch Robotic Bronchoscopy platform. This first-of-its-kind system is precise, accurate, stable and gives physicians a chance to reach even further into the lung. This new system also allows us to partner with developers working to create new technology that destroys a tumor while taking a biopsy.
Our physicians also use this technology to fine-tune diagnosis and treatment of non-cancerous lung diseases, including sarcoidosis, interstitial lung diseases, infections within the lungs and emphysema.
Advanced bronchoscopy techniques combine sophisticated technologies, including:
3-D CT scanning, which shows the patient's lung in fine, anatomical detail

A sensor-equipped steerable catheter that permits 360-degree travel through the lung's complex bronchial tree

Electromagnetic global positioning system navigation (similar to GPS technology available for cars)

Other specialized equipment
These elements combine to create powerful capabilities for diagnosing lung cancer and other diseases of the lung.

The system allows physicians to reach lesions within the lungs and chest that are visible on chest X-rays but are unreachable with standard bronchoscopes. This is a non-surgical alternative to more traditional options for reaching into the bronchial tree, such as CT-guided biopsy, or open chest surgery. In contrast, our team inserts a bronchoscope into the mouth or nose and down the windpipe — so there are no surgical incisions.
Our physicians are leaders in using minimally invasive methods to biopsy lymph nodes in the chest cavity and lung — a key step in the staging of suspected lung cancer.

The process, called transbronchial needle aspiration, may be recommended after a CT/CAT scan reveals an abnormal lymph node, which may indicate lung cancer. Conventional lung biopsy methods usually require surgery to reach a lymph node and extract a tissue sample for biopsy testing.

With transbronchial needle aspiration, there is no need for exploratory surgery to reach the lymph node. Instead, the physician can pass a special needle through the bronchoscope to reach the specific lymph node and extract tissue for biopsy. This advancement means patients can avoid unnecessary diagnostic surgery.
Transbronchial needle aspiration is done on an outpatient basis and usually takes less than an hour to complete. Patients return home later the same day.
We offer tumor debulking by laser and cooling methods. We offer a unique treatment using photodynamic therapy (PDT) to accurately destroy tumors that are encroaching into airways. Closed off structures can be dilated, and then a stent is placed inside them. This helps people breathe easier.
Interventional Pulmonology Team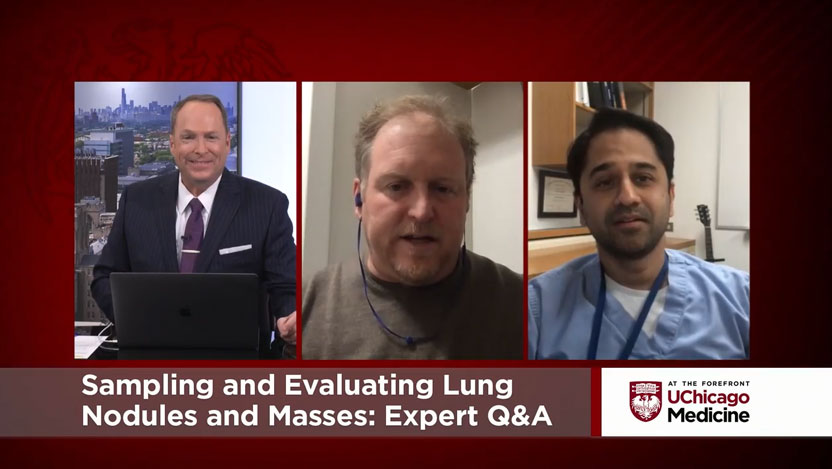 Request an Appointment
The information you provide will enable us to assist you as efficiently as possible. A representative will contact you within one to two business days to help you schedule an appointment.
You can also make an appointment with our providers by:
– Scheduling a virtual video visit to see a provider from the comfort of your home
– Requesting an online second opinion from our specialists
To speak to someone directly, please call 1-888-824-0200. If you have symptoms of an urgent nature, please call your doctor or go to the emergency room immediately.
Health & Science Articles