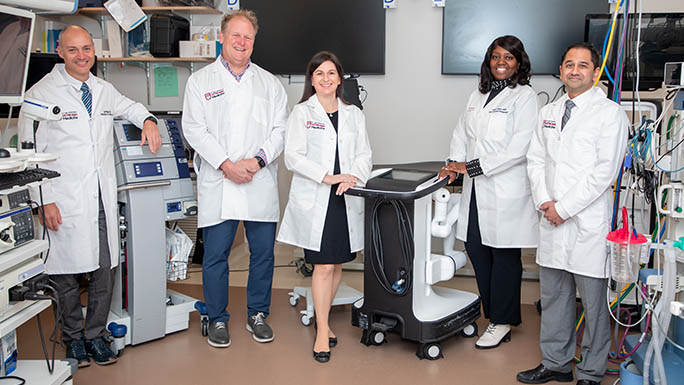 Many lung diseases can be diagnosed and treated without surgery using advanced bronchoscopy. During these outpatient procedures, interventional pulmonologists pass a thin tube with a tiny camera (or scope) through the nose or mouth and into the lungs.

The University of Chicago Medicine is a leader in the field of bronchoscopy. Our interventional pulmonologists have decades of experience and are highly committed to improving care for people with lung problems. They continuously research new ways to treat patients by regularly engaging in clinical trials to test advanced approaches and emerging technologies.
As a result, our pulmonologists have repeatedly been the first in the Midwest to adopt state-of-the-art bronchoscopy methods. For instance, they have more experience than any other Illinois hospital in using robotic bronchoscopy, a breakthrough approach that allows pulmonologists to reach areas deep within the lung that were previously only accessible with surgery.

Our patients also benefit from timely and compassionate care. For example:
UChicago Medicine provides bronchoscopy procedures five days a week (Monday through Friday). As a result, we can schedule patients for their procedures in less than a week, whereas most medical centers in the Chicago area schedule about a month out.
Our team provides comprehensive services before, during and after a patient's bronchoscopy. Our physicians and nurse practitioner educate patients and family on what to expect during and after the procedure. We also arrange any follow-up care or supplies that may be needed at home.
Finally, we collaborate with the patients' other physicians and caregivers to ensure that all care is coordinated. This team approach helps ensure that our patients benefit from the combined expertise of a variety of medical experts.
Our interventional pulmonologists diagnose and treat many lung diseases and problems:
Interventional Pulmonology Team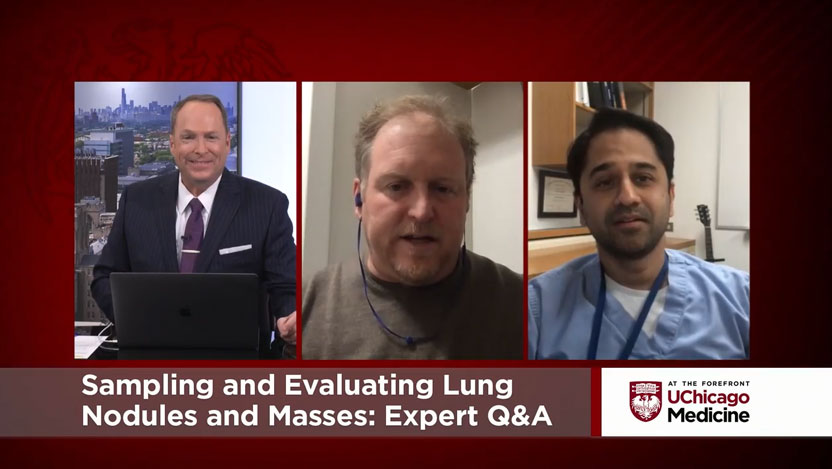 Request an Appointment
The information you provide will enable us to assist you as efficiently as possible. A representative will contact you within one to two business days to help you schedule an appointment.
You can also make an appointment with our providers by:
– Scheduling a virtual video visit to see a provider from the comfort of your home
– Requesting an online second opinion from our specialists
To speak to someone directly, please call 1-888-824-0200. If you have symptoms of an urgent nature, please call your doctor or go to the emergency room immediately.
Health & Science Articles