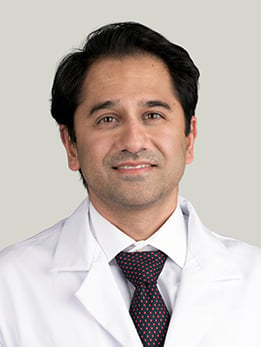 Pulmonary Medicine (Pulmonology) | More
Assistant Professor of Medicine
UChicago Faculty Physicians hold faculty positions with the University of Chicago and provide care for patients on the academic health system's main campus in Hyde Park and in care centers throughout the Chicago region.
Close
773-702-9660
[MUSIC PLAYING] My name is Ajay Wagh. I'm an interventional pulmonologist here at the University of Chicago. I've been practicing for the last seven years as a pulmonary critical care physician, and I'm excited to be here. An interventional pulmonologist uses minimally invasive techniques to diagnose and manage lung disease. Ultimately, I just want to help people feel better and breathe better.
So, I really believe in great communication and teamwork. I follow the philosophy of following the three A's-- affable, available, and able. And I try to reliably perform that every day when I come to work. I love math and science, and I love to problem solve, so I started out in engineering.
And because I enjoyed working with people, I followed that up with going into medicine, and it just seemed like a perfect fit. I love taking care of people, and I love to see them breathe better and feel better. And it's very professionally satisfying. First, if you smoke, please quit. Only clean air in the lungs, please. And good nutrition and exercise is important, and we can help you get on the right track.
[MUSIC PLAYING]
Ajay Wagh, MD, MS, specializes in pulmonary medicine with a focus in interventional pulmonology. Dr. Wagh is focused on using minimally invasive techniques for diagnosing and treating a wide range of lung and chest conditions, including stage lung cancer, chronic respiratory illness, complex airway disorders, pleural disease (pleurisy, pneumothorax, pleural tumors) and more.
Along with his clinical practice, Dr. Wagh is an active researcher. He investigates diagnostic techniques used to improve outcomes and quality of life for pulmonary patients. His work as been published in several peer-reviewed journals, including the Journal of Thoracic Disease, Respiratory Medicine and American Journal of Physiology, Lung, Cell, Molecular Physiology.