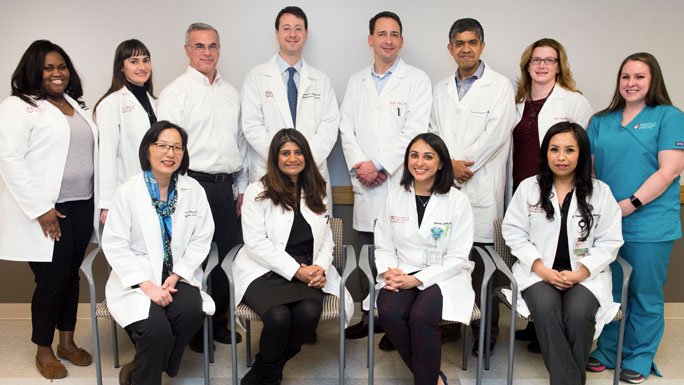 The University of Chicago Medicine Cutaneous Lymphoma Center provides comprehensive, personalized care for patients with cutaneous lymphoma, a type of blood cancer that affects the skin. Regional, national and international physicians feel confident referring their patients to our center because we offer the most advanced treatments and state-of-the-art diagnostic technologies. In addition, our physicians actively participate in research aimed at uncovering new approaches for improving our patients' quality of life.
A Team of Experts
Due to its complexity, cutaneous lymphoma often involves care from a diverse team of specialists, including:
Dermatologists
Oncologists
Radiation oncologists
Transplant oncologists
Pathologists: dermatopathologists, hematopathologists and molecular pathologists
We understand that diagnosing cutaneous lymphoma can be a confusing and often frustrating process for patients. Our center's dedication to integrated care means our physicians work together to identify your condition and develop an individual, efficient treatment plan for you. Our vast experience allows us to collaboratively guide our patients through their journey.
Research & Technology
Our center is committed to offering patients better treatment options. Scientific research and investigation increases our understanding of how to diagnose, treat and prevent lymphoma. Our pathologists use state-of-the-art laboratory testing to understand the cellular makeup of an individual's cancer cells. Our physicians use this knowledge to help pinpoint the most appropriate treatment for a patient's lymphoma.

This biological information is also being used as part of research into new treatments. Our Cutaneous Lymphoma Center actively participates in ongoing research at the University of Chicago's Hoogland Lymphoma Biobank. This innovative program studies donated bio specimens, including blood and urine, in an effort to understand how genes, lifestyle and environment affect lymphoma. Our goal is to better understand how malignant lymphoma spreads and how it can be controlled.
Clinical Trials
As a leader in new cutaneous lymphoma therapies, our center participates in relevant clinical trials. Conducted under rigorous guidelines, these trials help us determine the benefits and risks of new and existing therapies. They also offer our patients innovative treatments that are not widely available. If you are interested in participating in a clinical trial, talk with your physician about whether you'd be a good fit for the available trials.
Frequently Asked Questions About Cutaneous Lymphoma