Our physicians work with each patient to determine the best course of treatment based on the stage of the cancer, biological characteristics of the tumor, as well as the patient's medical history and lifestyle. For patients with early stage colon or rectal cancer, surgery often is the first and only step. Other patients may require chemotherapy and/or radiation therapy. For patients with metastatic colorectal cancer, our team offers an array of advanced treatment options not available at most hospitals.
While we may recommend different approaches for treatment, our goal for each patient remains the same: to treat the colorectal cancer successfully while maximizing quality of life.
Surgery for Colorectal Cancer
University of Chicago Medicine is a leader in minimally invasive, robotic and sphincter-sparing procedures. Minimally invasive and robotic techniques enable our surgeons to remove a cancerous tumor while preserving surrounding tissue. These procedures also can result in less pain and scarring and a shorter recovery time than traditional, open surgeries. UChicago Medicine is one of the highest volume centers in Chicago for robotic colon and rectal surgery.
Our surgeons offer the full range of procedures to treat colorectal cancer, including:
Segmental colectomy/left or right colectomy: Removal of a portion of the colon
Total abdominal colectomy: Removal of the entire colon
Total proctocolectomy: Removal of the colon, rectum, and anus
Abdominal perineal resection: Removal of the anus, rectum, sigmoid colon, and creation of a permanent colostomy (an opening in the abdomen for stool to pass through)
Small bowel resection: Removal of part of the small intestine
Stoma creation for fecal diversion: Creation of an opening in the abdomen for stool to pass through. This may be temporary or permanent
Hyperthermic Intraperitoneal Chemoperfusion (HIPEC): Removal of visible tumors followed by bathing the abdominal cavity with heated chemotherapy to treat residual cancerous cells
Hepatic Artery Infusion (HAI) Pump Chemotherapy: With the help of an implantable pump, this treatment delivers high doses of chemotherapy directly to the liver to shrink tumors that have spread to the liver and to reduce the chance for tumor recurrence.
Liver transplantation for colorectal cancer that has spread to the liver: Some patients with colorectal cancer with liver metastases (disease that has spread to the liver) may be candidates for liver transplant if the tumors are not able to be removed through surgery alone. The UChicago Medicine transplant oncology team were among the first in the nation to offer this treatment option for metastatic colorectal cancer.
Sphincter-Saving Procedures for Rectal Cancer
Patients with cancer in the mid- or low-rectum are often told the surgical procedure to remove the mass will also involve the removal of the sphincter. This results in the need for a colostomy — an opening in the abdominal wall for stool to pass through. Our surgeons offer sphincter-sparing procedures in cases where the rectal tumor can be removed without compromising control of the cancer.
In addition, UChicago Medicine is one of only a few hospitals offering transanal endoscopic microsurgery (TEM), a minimally invasive technique in which early stage cancers or superficial rectal polyps can be removed through the anus without surgery. Since no incisions are made, patients experience less pain and are usually able to leave the hospital within one or two days.
Chemotherapy & Radiation Therapy
Chemotherapy and/or radiation therapy are typically recommended for patients with advanced colorectal cancer. These treatments can be prescribed before and/or after surgery with the goal of preventing recurrence of the cancer. Advanced radiation therapy technology includes intensity modulated radiation therapy (IMRT), imaged-guided radiation therapy and stereotactic body radiation therapy (SBRT).
Research & Clinical Trials
Through our participation in clinical trials, patients have access to leading treatment options aimed at increasing cure rates and improving quality of life after therapy. Our physicians are currently studying the use of preoperative chemotherapy for locally advanced rectal cancer and selective non-operative management for patients with a good response to chemotherapy/radiation for rectal cancer. We are also examining the effectiveness and safety of cancer vaccines and the use of vitamins for colorectal cancer prevention.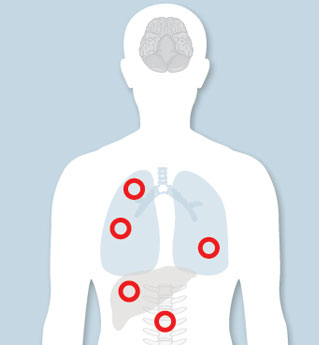 Treating Metastatic Cancer with Optimism and Hope
If you have been diagnosed with metastatic cancer, more therapies may be available to you than you think. Our cancer specialists are eager to help you understand all of your options.
Limited Metastatic Cancer Program
HIPEC: Step-by-Step Video
View a step-by-step animation of how HIPEC works to kill cancer cells after surgery to remove abdominal cancers.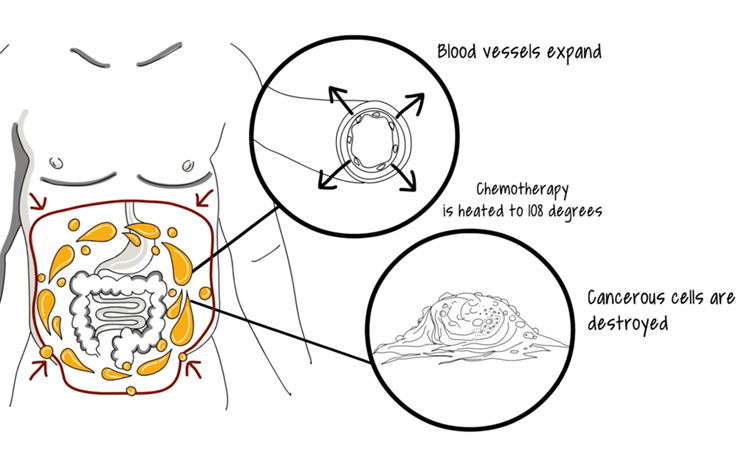 Colorectal Cancer Articles