Hepatic Artery Infusion (HAI) Pump Chemotherapy

An Innovative Treatment from a Leading Cancer Center
Hepatic artery infusion (also called hepatic arterial infusion pump chemotherapy, or HAI) is an innovative treatment for patients with certain metastatic colorectal and bile duct cancers that affect the liver. It's a powerful tool for doctors to use to treat liver tumors and to further tailor treatment plans.

With the help of an implantable pump, HAI delivers high doses of chemotherapy directly to the liver. It shrinks tumors with fewer side effects than traditional chemotherapy given through a vein.

The University of Chicago Medicine is the only hospital in Illinois and is among a select number in the country to offer this advanced treatment.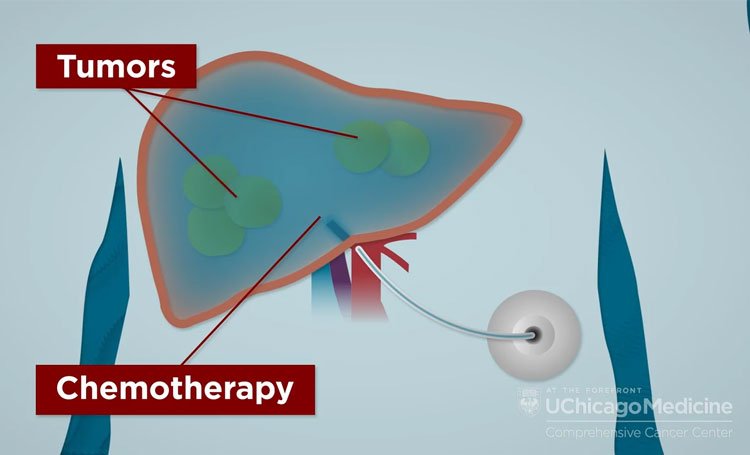 Hepatic Artery Infusion Pump FAQs
Here are answers to commonly asked questions about the treatment and the pump.
An Innovator in Hepatic Artery Infusion Research
At UChicago Medicine, our team is conducting a clinical trial of HAI for patients with metastatic colorectal cancer that has spread to the liver but who are not candidates for surgery. We also plan to study other chemotherapy drugs to use with the pump as well as other types of patients who might benefit from this treatment.

UChicago Medicine is also part of an international consortium of academic medical centers studying survival, quality of life and other outcomes for patients who have been treated with HAI. Through this collaborative effort, we aim to make HAI as safe and effective as possible and more widely available to patients who could benefit.
Why Should I Choose UChicago Medicine for Cancer Care?
The University of Chicago Medicine is home to a National Cancer Institute-designated Comprehensive Cancer Center, where patients have access to HAI as well as other innovative treatments and clinical trials that are not widely available at other hospitals.
We also offer other life-extending treatments to people with stage 4 cancers through our Limited Metastatic Cancer Program.
Hepatic Artery Infusion Program Leader
Request an Appointment for Cancer Care
The information you provide in this form will enable us to assist you as efficiently as possible. A representative will contact you within one to two business days to help you schedule an appointment.
For your convenience, you can make a virtual visit appointment with a cancer expert in the following ways:
– Schedule a virtual video visit to see a provider from the comfort of your home
– Newly diagnosed patients can schedule a 15-minute introductory Express Expert Cancer Opinion virtual session at no cost
– Request an online second opinion from our specialists
To speak to someone directly, please call 1-855-702-8222. If you have symptoms of an urgent nature, please call your doctor or go to the emergency room immediately.
For Referring Physicians
To refer a patient for cancer care, please call UCM Physician Connect at 1-800-824-2282.