There are more than 15.5 million cancer survivors alive in the U.S. today, according to recent estimates, and that number will grow to more than 20 million by 2026. As this population grows, there will be a greater need for support services, long-term care plans and research centered on survivorship. For example, for survivors of childhood cancers the risk of developing second cancers due to toxic effects of treatment can be very high and overwhelming.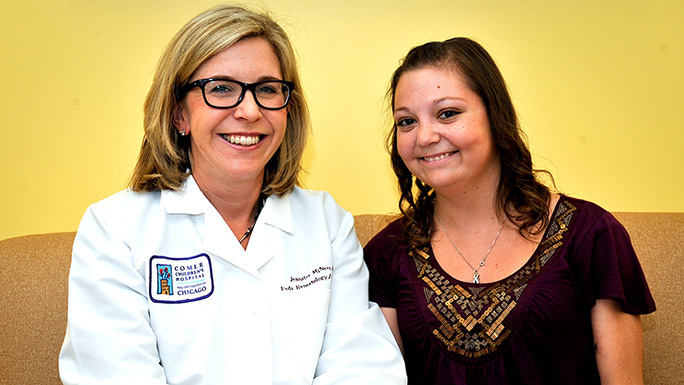 Childhood Cancer Survivors Center
Directed by Tara Henderson, MD, the Childhood Cancer Survivors Center at the University of Chicago works with childhood cancer survivors to understand their risk of second cancers and the long-term health consequences of cancer therapy. In addition, Henderson's research program is dedicated to understanding the types and frequencies of second cancers that arise in these survivors and how best to care for them in the long term. In a recent study, using the Childhood Cancer Survivor Study (CCSS) database, Henderson and a team of researchers from institutions across the U.S. found that women who survived cancer when they were children are four times more likely to develop early breast cancer as adults than those who did not have cancer as a child, even if they never received radiation therapy to the chest.
Learn more about the Childhood Cancer Survivors Center
Program in Integrative Sexual Medicine (PRISM) for Women & Girls
The PRISM program aims to identify, prevent and treat sexual health problems in female cancer patients and survivors. Led by Stacy Tessler Lindau, MD, and S. Diane Yamada, MD, the PRISM clinic team brings gynecologists, oncologists and nursing specialists together to provide comprehensive care.