The Comprehensive Cancer Center is at the forefront of the imaging revolution that is transforming cancer care. Our researchers are pioneering new imaging techniques that are helping specialists diagnose cancer in its early, less harmful stages and attack tumors with greater precision.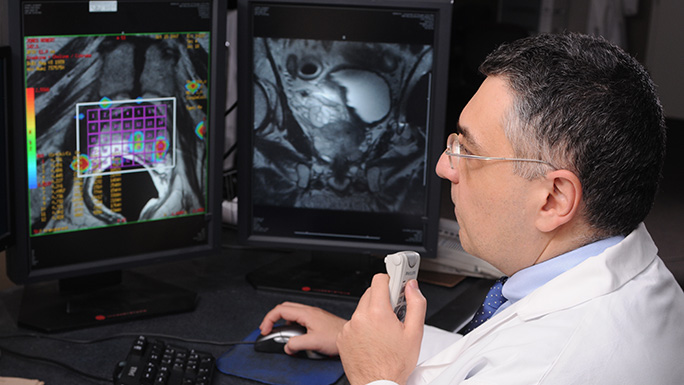 Imaging is a crucial element in cancer treatment, as it can be used to assess response to therapy and facilitate the development of customized therapies for individual patients.
MRI Research Center
The University's MRI Research Center is conducting clinical trials using minimally invasive, image-guided therapies, like high-intensity focused ultrasound (HIFU), to treat prostate and breast cancers. Magnetic resonance imaging (MRI) provides a more precise, detailed picture of organs, tissues and bones within the body, making it easier for doctors to identify developing cancers early when they are more easily treated.
Learn more about the MRI Research Center
Computer-Aided Diagnosis
Computer-aided diagnosis, pioneered at UChicago, is being taken to new levels of precision by researchers in our medical physics program. In 2008, for example, they unveiled a computer program that allows physicians to use enhanced magnetic resonance (MR) imaging scans, rather than a biopsy, to determine whether a common breast lesion (ductal carcinoma in situ) is invasive. Our researchers, including Maryellen Giger, PhD, continue to excel in the development and evaluation of new imaging technologies for computer-aided diagnosis.