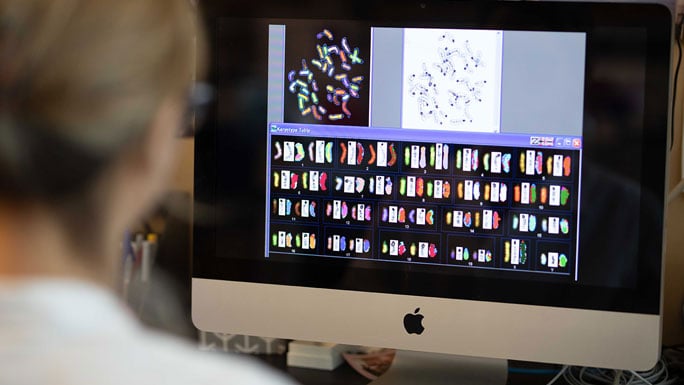 Precision medicine — which uses information about a person's genes, proteins, and environment to prevent, diagnose, and treat disease — continues to be a primary focus of the Comprehensive Cancer Center.
One day, physicians will be able to use a series of markers unique to each person to tailor individualized prevention and treatment strategies. Those markers could include genetic, social, environmental, and behavioral factors. Some personalized treatments already exist in oncology. They include genetic tests and measuring certain proteins in breast, lung, and colorectal cancer patients that help better identify the appropriate treatment strategies.
Genomic and Molecular Pathology
The Division of Genomic and Molecular Pathology (GMP), housed in the Department of Pathology, brings together the latest advances in genomics, computational biology and cancer biology to serve the University of Chicago and broader research and health care community. Directed by Jeremy Segal, MD, PhD, the GMP is comprised of the Molecular Diagnostics Laboratory and Clinical Genomics Laboratory. These are CLIA-certified facilities employing the latest next-generation sequencing and other genomics technologies to detect genomic and molecular alterations for patient diagnosis, prognosis, targeted therapy selection and patient monitoring. Recently added tests include the OncoPlus panel covering 1,212 cancer-related genes for assessment of both solid tumors and hematological malignancies. The GMP also has an active research and development program, using genomic assays and tools for research purposes as well as developing novel assays to address research and clinical care needs.
Personalized Cancer Care Consortium
The Personalized Cancer Care Consortium (PCCC) is a clinical research group based at the University of Chicago. The PCCC includes a network of six academic and community-based cancer clinics and hospitals in the Chicago Metro area, Central Illinois and Northeast Indiana.