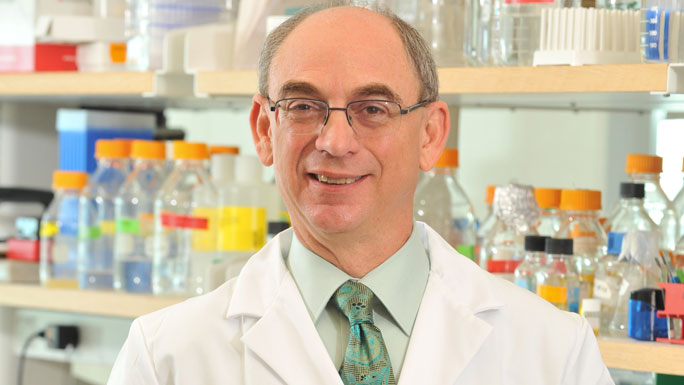 A person's precise genetic makeup can significantly impact the way they respond to drugs, such as chemotherapy. Our scientists are uncovering genetic variants (differences in the DNA sequence) that differ among individuals and confer sensitivity or resistance to various chemotherapeutic agents, in terms of antitumor activity and the adverse effects they cause (called toxicities).
Genetics and Drug Sensitivity
M. Eileen Dolan, PhD is identifying genetic variants associated with chemotherapy-induced toxicities. To study the genetic interactions caused by many commonly used chemotherapy drugs, Dolan's laboratory created cell-based models. Using cells from related individuals in 34 different families, they were able to show that some families are more sensitive to chemotherapies than others. This model system allows researchers to determine what percent of the variation in drug sensitivity is due to genetics.
Personalized Therapeutics and the 1200 Patients Project
The UChicago Center for Personalized Therapeutics, directed by Mark Ratain, MD, opened in 2010 to bring this knowledge into practice. A major initiative of the center is called the "1200 Patients Project," a first-of-its-kind study that will incorporate broad genetic information from adult patients who are receiving ongoing care into routine clinical practice for medical treatment decisions.
The 1200 Patients Project, led by Peter O'Donnell, MD, aims to develop a new model for personalized medical care through preemptive pharmacogenomics. Enrolled patients provide a single blood sample for analysis, which is genotyped by an in-house CLIA-certified laboratory. Patients' genetic information is compared to a database of well-substantiated pharmacogenomic research compiled by the 1200 Patients Project team, which is constantly updated to reflect the most current research available. This database is used to determine whether it is likely that a patient will respond positively or negatively to a medication.
With patient permission, these results are delivered to enrolled physicians at the University of Chicago through an online portal, termed the Genomic Prescribing System (GPS). The GPS is designed to be convenient to use, with clear and consistent images and wording, so that pharmacogenomic information can be easily integrated into clinicians' workflow. Ultimately, the GPS enables physicians to make patient-specific treatment decisions, improving patient outcomes.
Learn more about the 1200 Patients Project

Committee on Clinical Pharmacology and Pharmacogenomics
A one-of-its kind training program, the Committee on Clinical Pharmacology and Pharmacogenomics is designed for MD, PhD, and PharmD graduates interested in personalized medicine, pharmacogenomics, new drug development, classical clinical pharmacology, genetics of drug abuse and clinical trial design.
Learn more about the committee on Clinical Pharmacology and Pharmacogenomics