Skip to content
Free prenatal classes prepare parents for their new baby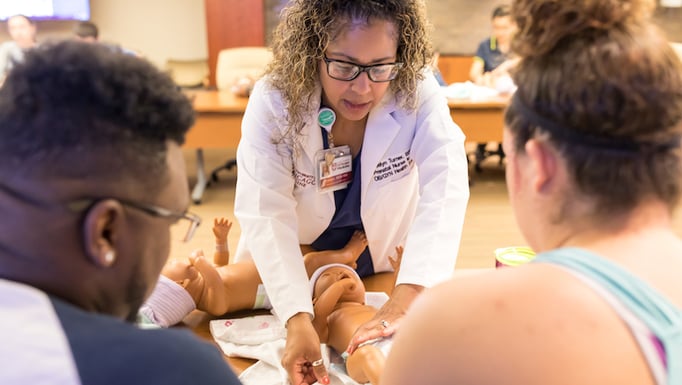 Expecting a new baby is a time of happiness and anticipation for the entire family. The Family Birth Center at University of Chicago Medicine offers prenatal classes to help prepare the family to care for their new baby. Taught with an evidenced-based, best practices, family-centered approach, the free classes focus on the whole family.
When it's safe to gather in groups,
prenatal classes are offered at the Hyde Park campus
, and
in the Southland by University of Chicago Medicine Ingalls Memorial in Harvey
. Now, while in the midst of the global pandemic, prenatal courses are offered online in a live virtual class and self-paced e-class formats. As a prenatal nurse instructor on the Hyde Park campus, here are the answers to a few frequently asked questions from parents preparing to welcome their newest edition to their families.
What do you learn in prenatal classes?
The prenatal classes cover a range of topics to help expectant parents and caregivers prepare for childbirth and to take care of a newborn. The introductory course, Infant Care for Expectant Parents, covers diapering, holding a newborn, and swaddling. It also covers newborn behaviors like feeding, sleeping, and crying. UChicago Medicine also offers Breastfeeding, which covers topics like maternal diet, infant latching and positioning, and monitoring how much the infant feed. We also have classes that teach Infant CPR and Safety, Lamaze, and many more.
Which prenatal classes can I take online?
Right now, caregivers are able to take the following e-classes online:
Those who take the e-classes also have the opportunity to participate in a live, virtual question and answer session.
Live virtual classes are another option. The classes offered in this format include most of those listed above, as well as Lamaze Childbirth Preparation and Infant Massage. Infant CPR and Safety, Intro to Baby's Car Seat, and Support Partners Workshop will be available in the live, virtual format by spring 2021.
Are prenatal classes for dads, spouses and partners, too?
Absolutely. The Support Partners Workshop is perfect for dads and partners. Anyone who will play a major role in supporting mom and baby are encouraged to take the classes, not only to support
the mother-to-be but for their own education. All caregivers can benefit from learning infant care techniques. The Breastfeeding class discuss the roles of fathers and partners in breastfeeding and skin-to-skin contact. This knowledge can also help partners be a strong advocate for the mother-to-be while in the delivery room.
Are prenatal classes for new parents only?
No, classes are open to any caregiver who would like to brush up on infant care skills, be it the second or fourth pregnancy. The Labor Preparation course is perfect for parents who have older kids and would like to brush up on the latest evidence-based practices. We also have a Grandparent's Workshop that serves as a refresher class for grandparents on the latest in infant care practices.
Are prenatal classes necessary?
Yes. Any time someone can gain education, it's necessary, especially when learning how to care for a baby. The practices are evolving, so it's important to be aware of the latest. In addition, classes like the Labor Preparation for Expectant Parents class will help parents learn what to expect during delivery. Intro to Baby's Car Seat is another necessary class, as car seat technology is ever-changing and getting more sophisticated. Prenatal classes will empower parents, instill confidence, and help them learn what to ask of their healthcare providers.
When should I start prenatal classes?
It's typically recommended to start prenatal classes at the start of the third trimester; however, it's really up to the parents and caregiver. Some families will start sooner so that they can create and discuss a birth plan and to get ready for the new baby. Another benefit of starting classes at the beginning of the third trimester is that parents will be closer to their delivery date and more likely to remember the content.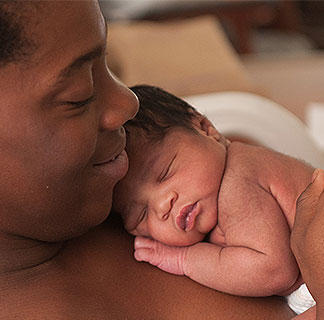 Family Birth Center
The Family Birth Center offers a customized birth experience in the comfort and privacy of our nurturing environment. Our team of experts support expectant mothers and families with compassion and respect through pregnancy, childbirth, bonding, breastfeeding and healing.
Learn More
Obstetrics and Gynecology Articles