Skip to content
ASCO 2021 virtual annual meeting features equity in cancer care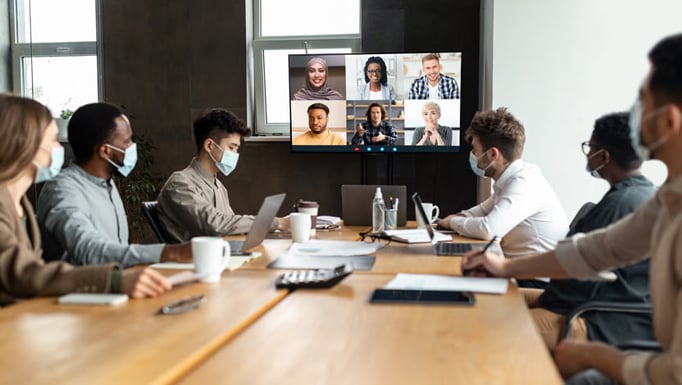 The American Society of Clinical Oncology (ASCO) Annual Meeting is a highly anticipated event that brings together world-renowned oncologists to highlight advancements in clinical oncology. The 2021 meeting took place virtually June 4-8 and featured the theme "Equity: Every Patient. Every Day. Everywhere."
The virtual program included almost 5,000 abstracts from diverse researchers on topics across the continuum, including cancer prevention, screening, treatment, survivorship and access to care. Content was shared through plenary and education sessions, poster presentations and discussions, case-based panels, clinical symposia, award lectures and published abstracts.
This was an exciting event for the UChicago Medicine Comprehensive Cancer Center, as Everett Vokes, MD, John E. Ultmann Professor and chair of Medicine and Physician-in-Chief of UChicago Medicine, made his first remarks as ASCO President for 2021-2022 at the Annual Business Meeting. Vokes, a long-time member and volunteer of ASCO, took office as President-Elect in June 2020. In addition to maintaining a clinical practice for over 30 years, he is a leader in translational and clinical research and has held many leadership roles at UChicago Medicine, on editorial boards, and with ASCO. Vokes was recently highlighted in a narrative special issue of the ASCO Post. Read more about his journey here.
In other ASCO 2021 news, Sonali Smith, MD, Elwood V. Jensen Professor in Medicine and Chief of Hematology/Oncology, received the Excellence in Teaching Award. Smith is a leading clinical investigator in lymphoma and an expert in lymphoid malignancies. For Smith, mentorship is an integral part of her career. Through teaching, she is inspiring future oncologists and shaping the practice of cancer medicine.
In awards for trainees, Amy Yuan Wang, MD, MPH, fellow in the Section of Hematology/Oncology, received a 2021 Conquer Cancer Merit Award, which are distinguished awards for oncology trainees who are highly accomplished in their fields. Wang is a clinical investigator in leukemia.
Moving into the research sessions, Kunle Odunsi, MD, PhD, the AbbVie Foundation Director of the UChicago Medicine Comprehensive Cancer Center, professor of obstetrics and gynecology, and Dean for Oncology for the Biological Sciences Division, led an interinstitutional plenary session discussion on clinical trial results proposed to improve the standard of care for patients with cervical cancer. These efforts aim to block the cancer's recurrence and spread.
Several cancer center faculty led ASCO Education Sessions, sharing the latest information on important clinical topics. Thomas Gajewski, MD, PhD, AbbVie Foundation Professor of Cancer Immunotherapy, discussed the science underlying immunotherapies in melanoma. Mark Ratain, MD, Leon O. Jacobson Professor of Medicine and director of the Center for Personalized Therapeutics, examined financially guided dosing—the paradigm of optimal versus maximally tolerated doses for cancer therapies. Fay Hlubocky, PhD, MA, clinical health psychologist, chaired a discussion on the oncology workforce of 2021, focusing on the challenges of burnout and moral strain in the era of COVID-19.
ASCO highlights presented by UChicago Medicine faculty include the following sessions. Marina Garassino, MD, professor of medicine, expert in the treatment of thoracic cancers, led the Highlights of the Day session discussion on lung cancer. Alexander Pearson, MD, PhD, assistant professor of medicine, specializing in the treatment of head and neck cancers, presented perspectives on immunotherapy and novel molecular targets at a case-based panel session. Olwen Hahn, MD, associate professor of medicine, and breast cancer clinician, chaired the session on metastatic breast cancer. Sonali Smith, MD, led a discussion on fine-tuning lymphoma treatment to benefit patients.
Authors on Oral Abstract Sessions (excluding those already mentioned) include: Rita Nanda, MD, associate professor of medicine and director of the Breast Oncology Program; M. Eileen Dolan, PhD, professor of medicine; Walter Stadler, MD, Fred C. Buffett Professor of Medicine and Surgery and Dean for Clinical Research; Peter O'Donnell, MD, associate professor of medicine; Peter Riedell, MD, assistant professor of medicine; Ari Rosenberg, MD, assistant professor of medicine; Gini Fleming, MD, professor of medicine and medical director of Gynecologic Oncology; and Andrzej Jakubowiak, MD, PhD, professor of medicine and director of the Myeloma Program.
Catch up on social media coverage of the event on Twitter @ASCO and #ASCO21, and view the complete list of 2021 UChicago Medicine ASCO news and abstracts, including all posters, poster discussion sessions and printed abstracts.
The ASCO 2021 Annual Meeting provides a global platform for UChicago Medicine physicians and researchers to share the latest discoveries in clinical oncology that contribute to the best care for patients everywhere.