Skip to content
2019 ASCO Annual Meeting: Caring for every patient, learning from every patient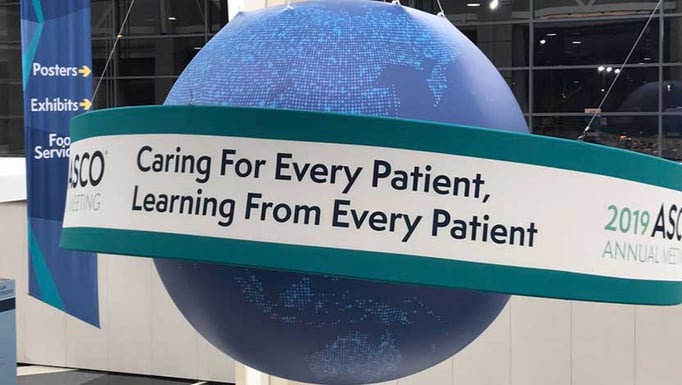 Each year, the American Society of Clinical Oncology (ASCO), a professional organization representing health care providers of all oncology sub-specialties, holds its annual meeting in Chicago. This year, the conference brought together more than 42,000 oncology professionals from around the globe to promote communication among oncology-related sub-specialties and the exchange of the latest findings from clinical research studies of novel treatments, cancer risk, survivorship and the value of cancer care.
This year's meeting took place from May 31 – June 4, 2019 and focused on the theme, "Caring For Every Patient, Learning From Every Patient." Popular topics that were addressed at this year's conference included optimizing responsiveness to immunotherapy, applying cellular therapy to solid tumors, improving access to care, overcoming challenges in hard-to-treat cancers or undruggable molecular targets, and enhancing patient quality of life.
Many UChicago Medicine faculty, staff and trainees presented their most recent research findings at the conference. The complete list can be viewed here.
In a plenary session, Hedy Kindler, MD, FASCO, professor of medicine, Medical Director of Gastrointestinal Oncology and Director of the Mesothelioma Program, described promising results from a POLO trial of olaparib in advanced pancreatic cancer patients with germline BRCA mutation. As this work represents a new standard of care in pancreatic cancer, she also participated as a panel speaker in a post-plenary panel discussion on the study's implications and how to incorporate germline testing into clinical management of the disease.
Blase Polite, MD, MPP, FASCO, associate professor of medicine, participated in a session on global access to medicine and discussed the challenges to cancer care access in the United States with a focus on Medicaid expansion, drug pricing, value-based care and financial toxicity. He also took part in a post-plenary session discussion panel regarding health equity and changes to cancer care access upon Medicaid expansion and Affordable Care Act implementation.
Thomas Gajewski, MD, PhD, professor of pathology and AbbVie Foundation Professor of Cancer Immunotherapy, was a speaker in a clinical science symposium discussing the tumor microenvironment and how a better understanding of this microenvironment can lead to the development of predictive biomarkers to guide immunotherapy in melanoma. Gajewski also played lead guitar with The CheckPoints, a band of luminaries in the cancer immunotherapy research field, at the House of Blues during the Society for Immunotherapy of Cancer's annual fundraising event.
Mark Lingen, DDS, PhD, professor of pathology, presented on the molecular characterization of oral precancers and the development of new biomarkers in a clinical science symposium about genomic biomarkers in head and neck cancers.
Daniel Catenacci, MD, associate professor of medicine, participated in a debate centered on the clinical management of patients with T3N1 esophagogastric junction cancers, specifically whether a pre-operative chemotherapy protocol (FLOT) or a pre-operative chemoradiation therapy protocol (CROSS) is the standard-of-care treatment.
Jyoti Patel, MD, FASCO, professor of medicine and director of thoracic oncology, moderated a case-based panel discussion on challenges in immunotherapy use for non-small cell lung cancer.
Nishant Agrawal, MD, professor of surgery, Section Chief of Otolaryngology-Head and Neck Surgery and director of head and neck surgical oncology, led an interactive case-based session in which he described how a new staging system for squamous cell carcinoma of the head and neck makes "curable" cases more challenging.
Fay Hlubocky, PhD, MA, clinical health psychologist and research ethicist, presented on the significance of moral distress, burnout in oncology and moral resiliency in medicine. She also chaired a workshop on enhancing cultural literacy in oncology.
Richard. Larson, MD, professor of medicine and director of the Hematologic Malignancies Program, participated in an education session as a panelist discussing the American Board of Internal Medicine's Maintenance of Certification (MOC) oncology learning and assessments, as well as the new alternative MOC pathway.
Justin Kline, MD, associate professor of medicine, participated in a lymphoma poster discussion session that covered activating the immune system in patients with diffuse large B-cell lymphoma.
Olwen Hahn, MD, associate professor of medicine, summarized a promising end-of-study analysis of the CLEOPATRA breast cancer trial and updated outcome data for the HERITAGE trastuzimab biosimilar study.
Hematology/oncology fellow Daniel Olson, MD, presented findings from his study with former Comprehensive Cancer Center faculty member Jason Luke, MD, identifying molecular correlates, including gene expression profiles, associated with overall survival in metastatic uveal melanoma. Olson was named as a recipient of the Sherwin Family Endowed Merit Award for this work.
Faculty members Akash Patnaik, MD, PhD; Mark Ratain, MD, FASCO; Yuan Ji, PhD; Tara Henderson, MD, MPH; Ami Desai, MD; Geoffrey Greene, PhD; Steven Chmura, MD, PhD; Olwen Hahn, MD; Daniel Catenacci, MD; Olatoyosi Odenike, MD; Peter O'Donnell, MD; and Christopher Daugherty, MD, presented posters or were senior authors on posters describing their most recent research findings. Many others were co-authors on multi-institutional studies presented.
Several faculty and trainees were also recognized with awards and other honors, including Tara Henderson, MD, MPH, and Sonali Smith, MD, being named ASCO Fellows and Caroline Hesko, MD, MPH, receiving a 2019 Conquer Cancer Foundation of ASCO Annual Meeting Merit Award.
UChicago Medicine Comprehensive Cancer Center
UChicago Medicine is designated as a Comprehensive Cancer Center by the National Cancer Institute, the most prestigious recognition possible for a cancer institution. We have more than 200 physicians and scientists dedicated to defeating cancer.
Learn More About the Comprehensive Cancer Center