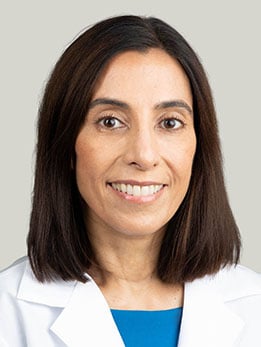 Interventional Endoscopy, Gastroenterology | More
Professor of Medicine Associate Director, Center for Endoscopic Research and Therapeutics
Director, Endoscopic Ultrasound and Advanced Endoscopy Training
A clinically integrated network of physicians and providers employed by UChicago Medicine who offer care in inpatient, community, ambulatory, acute care or extended care settings.
Close
773-702-6140
Uzma Siddiqui, MD, is a gastroenterologist with expertise in interventional endoscopy. Her training includes fellowships in both gastroenterology and advanced endoscopy. Dr. Siddiqui's clinical focus is on gastrointestinal oncology and endoscopic ultrasound (EUS).
EUS is a minimally invasive procedure used to diagnose and manage a wide range of gastrointestinal cancers and pre-cancerous lesions, including pancreatic tumors. Other therapeutic endoscopic procedures Dr. Siddiqui performs include endoscopic retrograde cholangiopancreatography (ERCP) with removal of stones and stenting of tumors to relieve obstruction in both the bile and pancreatic ducts, drainage of pancreatic cysts, nerve block for pain related to pancreatic cancer, radiofrequency ablation of Barrett's esophagus, and endoscopic mucosal resection (EMR) of large polyps or small tumors in the GI tract.
A dedicated educator and mentor, Dr. Siddiqui teaches techniques of therapeutic endoscopy in courses for gastroenterologists, trainees, and nurses. She is also a prominent researcher, focusing on improving the various applications of advanced endoscopic techniques. Dr. Siddiqui has published numerous peer-reviewed manuscripts and written book chapters on EUS, ERCP, pancreatic cancer, and palliative care for gastrointestinal malignancies.