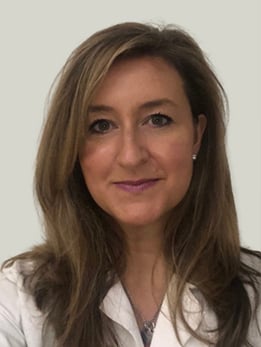 Plastic and Reconstructive Surgery | More
Associate Professor of Surgery
Director, Plastic and Reconstructive Surgery Research
UChicago Faculty Physicians hold faculty positions with the University of Chicago and provide care for patients on the academic health system's main campus in Hyde Park and in care centers throughout the Chicago region.
Close
773-702-6302
[MUSIC PLAYING ] My name is Summer Hanson. I am an associate professor and director of plastic surgery research here at the University of Chicago. My clinical specialty is breast reconstruction after cancer surgery and then other areas of cancer reconstruction, but particular focus on breast.
When patients come to see a plastic surgeon, especially in an academic place or a cancer center, it can be very overwhelming and sometimes confusing. So my job is to help them navigate my role in their care process and thinking more so in the long term rather than the short term problem. What things are going to look like, how they're going to feel, how your normal function is going to be 20 years from now.
I think that reconstruction is an area where, unlike some treatments, there are choices that we have in terms of your reconstruction. That can be bigger or it can be smaller, but can have a pretty significant impact on the short- and long-term outcomes. So I think that decision-making process is really important. I can know from an anatomical or technical standpoint what the best choices are, but only the patient can tell me what the best choices for their lifestyle and their goals are.
I actually wanted to be an architect when I was a kid. I thought that it was really interesting to see how things like buildings and bridges could be both functional and beautiful. And during college, I really enjoyed my science classes, my biology classes. And so I stumbled into plastic surgery because I thought it was the perfect union of both. So it's very biological, very anatomical, but also almost architectural in the reconstructive side.
I think the most rewarding part of my job is helping patients come to a decision about their reconstruction and taking into account their long-term goals and their quality of life, and all the things that they get to look forward to after this acute problem.
[MUSIC PLAYING ]
Summer E. Hanson, MD, PhD, FACS, specializes in plastic and reconstructive surgery. Dr. Hanson is an expert in treating a wide range of conditions, offering everything from complex breast reconstruction, trunk reconstruction and extremity reconstruction to skin cancer treatment, revision surgery and lymphedema surgery.
Dr. Hanson takes a holistic approach to care and is committed to offering each patient a personalized, comprehensive treatment plan. She works with her patients to understand their individual goals and concerns, and together they establish a plan designed to improve recovery and deliver long-term success.
In addition to her clinical practice, Dr. Hanson is also devoted to research. She is constantly looking to improve outcomes and quality of life in plastic surgery patients by streamlining current techniques and developing best practices by exploring new treatments using engineering strategies. She has an active lab investigating adipose derived stem cells in reconstruction, inflammation and cancer treatment, and her work has been published in several peer-reviewed journals, including Plastic and Reconstructive Surgery, Clinical Breast Cancer, Annals of Surgical Oncology, Tissue Engineering and more. Dr. Hanson is currently the co-editor of a textbook under development on cell therapies in regenerative surgery.