Breast, Head & Neck Reconstruction after Cancer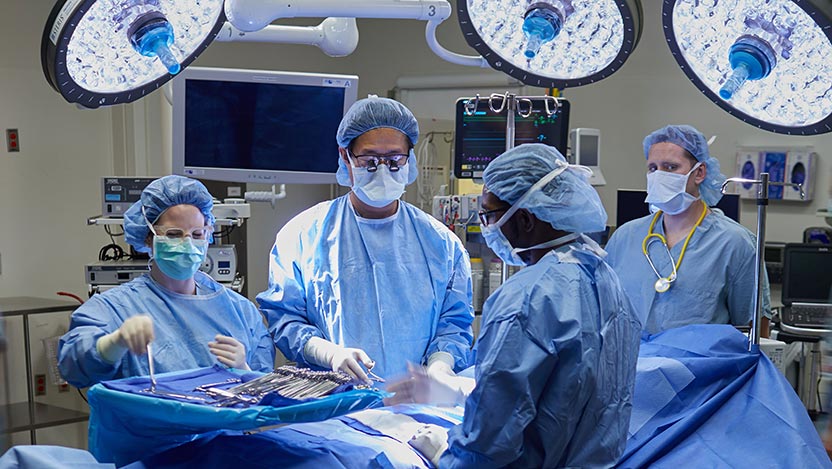 Breast Reconstruction
At the University of Chicago Medicine Center for Breast Reconstruction, we offer a multidisciplinary approach to optimizing the treatment of breast cancer and breast reconstruction, and we work closely with all aspects of our multidisciplinary team to create a plan of care from diagnosis to treatment and reconstruction that is optimized to each individual patient.
Our breast reconstruction surgeons specialize in using your own tissue to recreate your breast. We offer state-of-the-art, advanced microsurgery to reconstruct breasts with your own skin and fat while minimizing the effects on the areas from which we source the tissue.
Our close communication with our breast surgeons allows us to offer a different approach to breast conservation therapy that includes a multidisciplinary approach to oncoplastic surgery.
We work with patients to optimize the postoperative shape of the breast, as well as to provide any procedures that may need to be done to balance the other breast.
Head & Neck Reconstruction
Our surgeons perform organ-sparing and reconstructive techniques to restore physical appearance and function for patients with head and neck defect or deformity secondary to cancer, trauma or congenital development.
Patients are often referred for complex wounds that have developed as a complication of prior treatment, such as soft-tissue wounds and bones that didn't heal after radiation.
Our plastic surgeons work in collaboration with Head and Neck Surgery Oncology team to provide comprehensive care for patients with head and neck malignancies.
Request an Appointment
The information you provide will enable us to assist you as efficiently as possible. A representative will contact you within one to two business days to help you schedule an appointment.
You can also make an appointment with our providers by:
– Scheduling a virtual video visit to see a provider from the comfort of your home
– Requesting an online second opinion from our specialists
– Filling out an online questionnaire (e-visit) to get a same-day diagnosis and treatment for common conditions.
To speak to someone directly, please call 1-888-824-0200. If you have symptoms of an urgent nature, please call your doctor or go to the emergency room immediately.