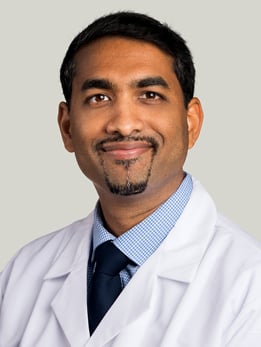 Hematology and Oncology (Cancer) | More
Assistant Professor of Medicine
UChicago Faculty Physicians hold faculty positions with the University of Chicago and provide care for patients on the academic health system's main campus in Hyde Park and in care centers throughout the Chicago region.
Close
855-702-8222
Satyajit Kosuri, MD, is a medical oncologist who treats adult patients with acute leukemia, myelodysplastic syndrome and myelofibrosis. He has clinical expertise in stem cell transplantation.
His clinical research focuses on improving patient access to transplant through the use of alternative donor strategies and the use of novel immune therapies in these diseases.
His main passion is guiding his patients through the treatment process and working with a multidisciplinary team of physicians to provide state-of-the-art care.