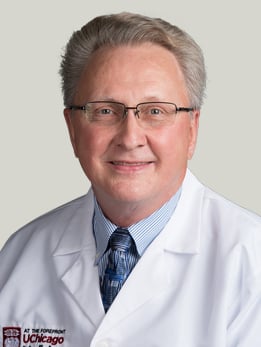 William D. Mabie Professor in the Neurosciences
UChicago Faculty Physicians hold faculty positions with the University of Chicago and provide care for patients on the academic health system's main campus in Hyde Park and in care centers throughout the Chicago region.
Close
773-702-6222
My name is Dr. Richard Kraig. I'm the William D. Mabie Professor in the Neurosciences at the University of Chicago. I entered medicine years ago to try to improve and understand treating brain disorders. This has led to more than 39 years of clinical practice and 46 years of basic research designed to understand and treat migraine headache.
My philosophy for migraine care always begins with the lifestyle of the patient-- what their sleep, diet, caffeine, exercise, how much time they spend at the computer, how much time they spend in the office. And whether they take breaks from the computer and take breaks and actually walk outside for some mindfulness activity.
After that we begin to consider medications. When headaches are frequent enough, we use a daily medicine. When they are not, we can use an abortive. But in each instance, these are done with patient input so that we can maximize compliance.
Brain is the one organ that creates new thought. And I was always fascinated by its ability to sense its environment, ponder its experiences, and create new knowledge. It turns out that new knowledge creation, along with mild exercise, are the key tenets to improved health in neurologic disease.
Success in medicine is to never give up. It's a series of approximations, listening, reacting to the patient, looking at the literature, looking at your science, and progressively adapting to what can best help the patient. That's a path of never quitting, which not only instills resilience in you, but instills resilience in the patient.
Richard P. Kraig, MD, PhD, is an expert in migraine patient care,
migraine
research and cerebrovascular disease research. His clinical interests focus on the diagnosis and treatment of migraine headaches. He oversees the Cerebrovascular Disease and Aging Laboratories, which focus on migraine,
stroke
,
epilepsy
and cognitive decline from aging.
An active researcher, Dr. Kraig leads investigations to determine how physical, mental and social activities can lessen the impact of
neurological disease
. Examination of such mechanisms by which the brain naturally protects itself may lead to more selective cellular and molecular targets, as well as new therapeutic strategies against brain disease. Dr. Kraig's research helps him to develop individualized treatment plans for patients in the Migraine Headache Clinic. He is also involved in teaching medical students, graduate students and residents.