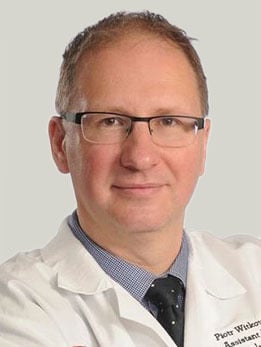 Associate Professor of Surgery
Director, Pancreatic and Islet Transplant Program
UChicago Faculty Physicians hold faculty positions with the University of Chicago and provide care for patients on the academic health system's main campus in Hyde Park and in care centers throughout the Chicago region.
Close
773-834-3524
Piotr Witkowski, MD, PhD, is a leading expert in islet transplantation. He is also highly skilled in kidney, pancreatic, and liver transplantation, including laparoscopic techniques used to procure organs from living kidney donors. Dr. Witkowski also performs islet autotransplantation for patients who need a pancreatectomy.
A widely published researcher, Dr. Witkowski has an impressive record of success in both basic science and clinical research pertaining to islet cell and abdominal organ transplants. Among other accomplishments, he was instrumental in developing an optimized islet isolation technique that greatly improved success in clinical transplants. Under Dr. Witkowski's leadership, multidisciplinary research teams at the University of Chicago are currently conducting several studies skillfully designed to improve quality and outcomes in islet cell transplantation in patients with type 1 diabetes.