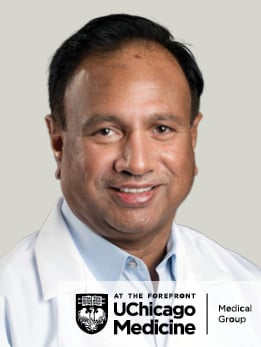 Dr. Mohammed Shamshuddin is a board-certified physician specializing in internal medicine.
Dr. Shamshuddin is known as a compassionate physician who develops positive relationships with his patients by being an excellent listener. He takes the time to explain all available treatment options, encourages his patients to be active partners in their healthcare and educates patients to make informed healthcare decisions.
Dr. Shamshuddin holds memberships in the American College of Physicians, the American Medical Association and the Indian Medical Council.
UCM Medical Group physicians with privileges at the hospital are independent physicians. They are not employees or agents of the University of Chicago Medical Center or Ingalls Memorial.