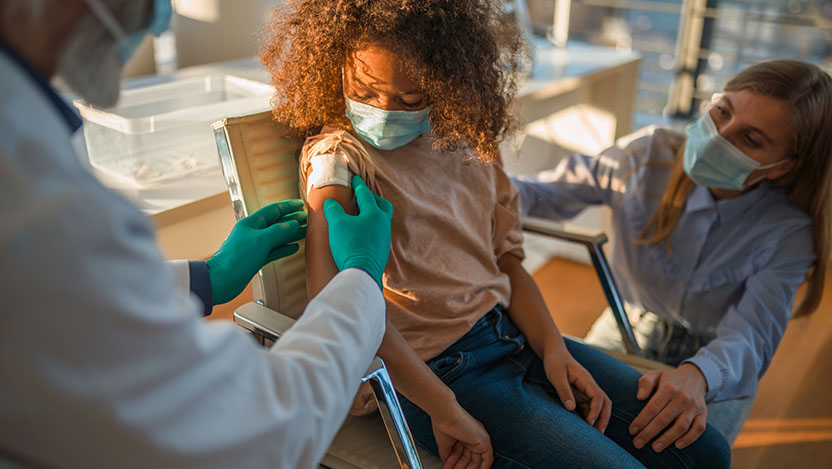 Our Comer Children's Pediatric Travel Medicine Clinic treats both adult and children who are traveling together as a family group. From immunizations to care for illnesses caught abroad, we give families peace of mind when they leave the Chicago area by offering expert care before and after their trip.
Consultations
The UChicago Comer Children's Pediatric Travel Medicine Clinic offers complete travel care, ranging from consultation, immunizations and preventative medicine to post-travel care in the event of an illness.

During your visit, a member of the pediatric infectious diseases team will meet with you to discuss the details of your trip, your medical history and your current health status. With the use of a travel disease database, our team will advise you of the required and/or recommended immunizations. Most of our patients are able to receive immunizations on-site or prescriptions for preventive medicine during their initial visit.

In addition to providing expert medical care, our staff will inform you of general travel health guidelines, such as food, water and insect precautions. You will also be advised of health risks and disease outbreaks for the region where you are traveling. At the end of your consultation, you will receive written information specific to your destination and a list of vaccinations you may have received during your visit.
Consultation & Group Rates
When coming for immunizations, a pre-travel consultation fee applies [in order for the physician to evaluate the medical appropriateness of the requested vaccinations]. You qualify for a group evaluation rate if you are traveling with another person and both of you can be evaluated together at the same time. This is ideal for families who do not mind sharing their health histories.
Preventive Medicine
Preventive medications for diseases, such as malaria, and medications for common travel illnesses, such as diarrhea, are also available at the clinic.
Post-Travel Care
In the event of an illness during or after your trip, we are available for post-travel diagnosis, treatment and follow-up. For example, we can perform blood tests to diagnose malaria and stool tests for parasites.
Schedule an Appointment
To request an appointment at our Pediatric Travel Medicine Clinic, call 773-834-8221.
Travel Immunizations
Diphtheria/tetanus/pertussis (Tdap): $75
Hepatitis A (2-shot series): $95 per shot
Hepatitis B (3-shot series): $80 per shot
Hepatitis A/B combo (3-shot series): $145 per shot (offered only at the Hyde Park location)
Immunoglobulin .1: $34
Immunoglobulin .2: $68
Immunoglobulin .3: $102
Immunoglobulin .4: $136
Immunoglobulin .5: $170
Influenza (flu): $55
Japanese encephalitis (2-shot series): $250
Measles, mumps, and rubella (MMR): $150
Meningitis (for patients older than age 56): $120
Meningitis/DTC: $125
Pneumonia: $55
Polio: $60
Rabies: $300
Tetanus/diphtheria (Td): $55
Typhoid (Most often a four-capsule prescription purchased at the pharmacy. In rare cases, a traveler may require one shot rather than an oral vaccine.): $100
Varicella: $115
Yellow fever: $130
Note: Prices are subject to change over time without notice.
Routine Immunizations
If you are not up-to-date with routine immunizations, we may advise you to have them updated. The most commonly recommended shots are measles, mumps, rubella and diphtheria/tetanus.
Plan Ahead
Because some immunizations take longer to become effective, it is best to schedule your visit no later than two weeks before departure (although some clients are seen later than this due to time constraints). If you are departing in a shorter time frame, we will make every attempt to schedule you as soon as possible. If you are planning to move to another country, please schedule your appointment several months before your departure.
What to Bring
In order to determine your travel needs and make your visit to the Travel Clinic as efficient as possible, please bring the following information to your appointment:
Childhood vaccination/immunization records, if available
Travel itinerary with departure dates and all destinations
A list of any medications you are currently taking
World Health Organization International Certificate of Vaccination (WHO Yellow Book), if you have one. If you do not, our team can provide you with the certificate of vaccination.
Convenient Hours & Location
Our Travel Clinic is located on the fourth floor of Comer Children's Clinic. We are available for appointments for in-person appointments on Tuesdays between 8 a.m. to 12 p.m.
Virtual appointments: Tuesday or Thursday mornings. **If injections are needed, a separate appointment for immunizations will need to be scheduled.
Fees & Payments
There will be a fee for the evaluation/consultation, as well as for any immunizations you receive. Prescriptions are paid for at your pharmacy. We offer group discounts. Insurance is not billed for travel clinic services, which means payment is due at the time services are rendered. We accept cash and major credit cards.
We will provide you with an itemized receipt for insurance purposes. Keep in mind that most insurance policies do not cover costs associated with travel.
Infectious Diseases Articles