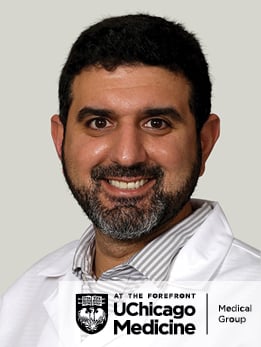 Dr. Rahmani completed a family medicine residency at Swedish Covenant Hospital in Chicago, and received his medical degree at Chicago College of Osteopathic Medicine in Downers Grove, IL. He completed his undergraduate studies at Indiana University in Bloomington, IN, and earned a master's degree in biomedical sciences from Midwestern University.
A native of the Homewood-Flossmoor area, Dr. Rahmani was born at Ingalls Hospital and is the son of well-known endocrinologist Akbar Rahmani, M.D., and brother of Dr. Solmaz Rahmani. When he's not seeing patients, Dr. Rahmani enjoys a variety of sports and physical activities, including bicycling, and rides up to 60 miles a week.
As a family practitioner, Dr. Rahmani has the skills and knowledge to care for adolescent and adult patients. His areas of special interest and expertise include the treatment of diabetes, thyroid disorders, sports medicine and preventing sports injuries, osteoarthritis, nutrition and weight loss, and overall preventive care.
The physicians at UChicago Medicine Ingalls Memorial are independent medical practitioners and are not employees or agents of Ingalls Memorial or the University of Chicago Medical Center ("UChicago Medicine").