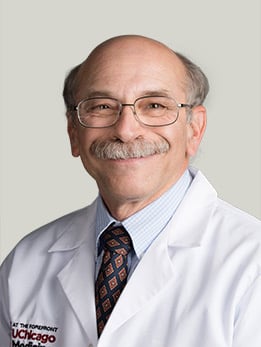 Clinical Associate of Medicine
A clinically integrated network of physicians and providers employed by UChicago Medicine who offer care in inpatient, community, ambulatory, acute care or extended care settings.
Close
773-702-6138
David H. Sarne, MD, is an endocrinologist. He provides care for patients with thyroid disorders, including Graves' disease, hyperthyroidism, hypothyroidism, thyroid nodules, thyroid cancer, and confusing thyroid tests and pituitary diseases.
Dr. Sarne has been the primary investigator on long-term studies examining the effect of thyroid hormone on thyroid disorders and bone. He has also studied thyroid abnormalities and infertility, and the transport of thyroid hormone into cells. His work has been funded by the National Institutes of Health (NIH).
Dr. Sarne has made significant contributions to medical literature, sitting on the editorial board of the Journal of Clinical Endocrinology and Metabolism, and serving as a reviewer for notable scientific journals, including the New England Journal of Medicine, Journal of Clinical Endocrinology and Metabolism, and the Journal of the American Medical Association. In addition, Dr. Sarne has published more than 80 original articles and abstracts.
Dr. Sarne is actively involved in the American Thyroid Association, serving in several elected positions, such as a member of the executive board, treasurer and chairman of the finance and audit committee. Since 2006, he has been consistently named to the list of "Best Doctors in America" by Best Doctors, Inc.