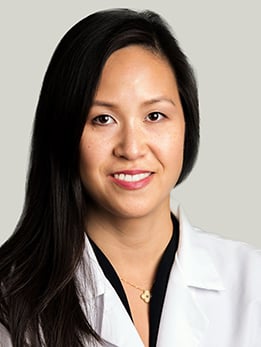 Cardiology (Heart Care), Transplant | More
Assistant Professor of Medicine
UChicago Faculty Physicians hold faculty positions with the University of Chicago and provide care for patients on the academic health system's main campus in Hyde Park and in care centers throughout the Chicago region.
Close
773-702-9461
Ann Nguyen, MD, specializes in advanced heart failure. Dr. Nguyen provides comprehensive care for patients with left ventricular assist devices (LVADs), mechanical circulatory support and heart transplants.
As a physician-scientist, Dr. Nguyen investigates metabolic dysfunction that occurs as a heart fails, alterations in the microbiome in patients with advanced heart failure and the effect of diet and nutrition has on the progression of heart failure. Her research has been published in several peer-reviewed journals, including the Journal of Heart and Lung Transplantation, Journal of Cardiac Failure, Journal of American Cardiology: Heart Failure and Journal of the American Heart Association.